A.P. Chef offers a bespoke catering service for Cornwall and beyond, including restaurant at home dining experiences and curated events.
A.P. Chef's Restaurant At Home – Enjoy a special 3 course meal cooked by A.P. Chef with a uniquely designed menu with any family requests taken into consideration.
A.P. Chef Events – A.P. Chef caters for large and small events offering canapé, 3 Course Fine Dining & Buffet Style menus.
See below for a 3 Course Fine Dining Seasonal Sample Menu
Please get in touch to request a bespoke menu and a quote will be sent accordingly.
Private Chef For Your Holiday – You can book A.P. Chef and all meals plus dessert and sweet treats will be catered for. A.P. Chef will do the food shop and make sure your kitchen is stocked with snacks and extras. Please get in touch and a bespoke menu plan will be sent to you
A.P. Chef will take care of all dietary requirements.
For all enquiries call Ali on 07729 446 088 or email hello@apchef.co.uk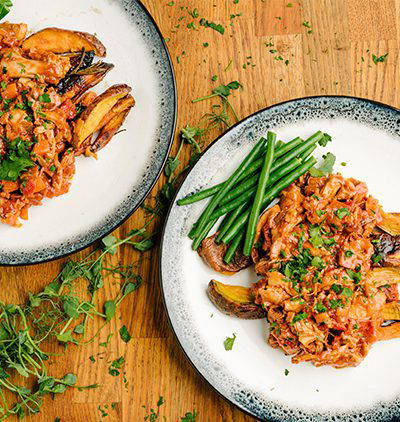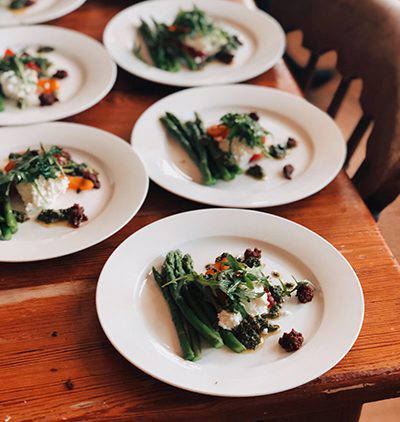 Summer 3 Course Sample Menu
to start
All served with Focaccia
Ricotta and Pepper Grilled Aubergine Roll
Baba Ghanoush and Vegetable Crisps
Roasted Tomato, Basil & Pine Nut Bruschetta
Balsamic Glazed Rocket Salad
Thai Beef Salad
Crispy Shallots and Roasted Peanuts Salad
Cornish Yarg and Pancetta Puff Pastry Tartlet
Sticky Shallots and Salad Leaves
Smoked Salmon & Beetroot Horseradish Cream
Cress and Melba Toast
Crab Linguine
Roasted Focaccia Crumb and Shredded Baby Gem

main
Herb Crusted Roasted Rack of Lamb
Summer Ratatouille, Roasted Baby Potatoes and Mint Sauce
Fillet Of Beef
Peppercorn Sauce, Leek Dauphinoise, Summer Roasted Vegetables and Beans
Breaded Haddock Fillet
Salt and Vinegar Mash, Leek & Mustard Sauce & Asparagus
Cornish Hake with Beurre Noisette
Slow Roasted Red Peppers and Tomatoes, White Wine Braised Greens and Roasted Hasselback Potatoes
Sesame Summer Vegetable lentil Filo Strudel
Summer Slaw and Tomato Salad
Roasted Cauliflower Steak and Romesco Sauce
Aubergine Caponata and Mange Tout Salad
To finish
Chocolate Hot Pot and Vanilla Ice Cream
Elderflower and Lemon Cake with Crème Fraîche
Raspberry and Almond Tart with Cornish Clotted Cream
Coffee Crème Brûlée with Wafer Biscuits
Salted Caramel Cheesecake
Hazelnut Meringues, Vanilla Whipped Cream and Poached Rhubarb
Sticky Toffee Pudding, Toffee Sauce and Ice Cream
Almond Panna Cotta, Granola Crumb & Raspberries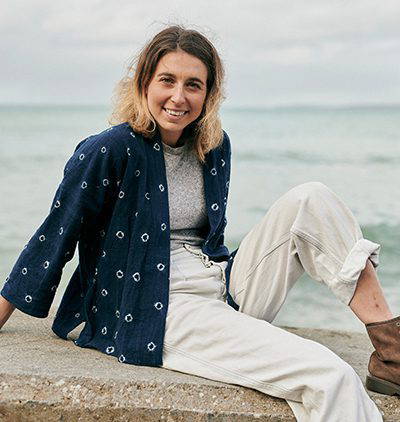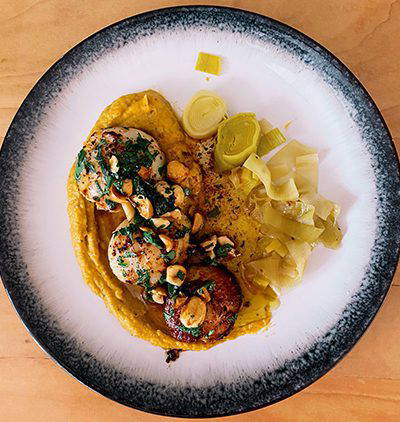 Coronation Chicken, Mango Chutney, Toasted Slivered Almonds on Baby Gem
Ruby Red Cornish Beef Tarragon and Horseradish Roulade Forks
Cornish Crab, and Chilli Filo Tartlets with Baby Gem Lettuce
Smoked Salmon, Smoked Salmon Mousse on Corn Fritter
Spring Onion and Cheddar Quesadillas
Mini Puff Pastry Sausage Rolls
Lamb and Apricot Kofta With Tahini Dressing
Sesame, Spinach and Feta Filo Triangle with Tzatziki
Tiger Prawn, Pickled Slaw and Sweet Chilli Spoons
Smoked Mackerel Pâté, Toasted Rounds and Pickled Cucumber
Aubergine Caponata, Filo Cups and Pine Nuts
Mini Cod Goujons & Tartare Sauce
Goat's Cheese and Maple Glazed Walnuts on Cheddar Shortbread
"Thank you so much, you really made our evening so special and your food was incredible. We love Cornwall so much but having you cook for us was the biggest highlight of our week. We will definitely book you again next time we are in Cornwall. "
A.P. Chef's Restaurant At Home, Jon Moorhouse, Perranuthnoe Cornwall