Banana Oat Porridge Pancakes
Servings
Makes 6 Pancakes
Chef Tip:
It is important to use a non-stick frying pan as the batter is quite wet and they will be easier to flip in a non-stick one.
A brilliant brunch/ breakfast for Pancake Day! Ready in 15 mins, these speedy pancakes are easy to make and are packed full of nourishing ingredients, setting you up nicely for the day!
Please see ingredient substitution list at the bottom of the recipe.
1 Banana
125g Jumbo Oats
2 Eggs
1½ tsp Baking Powder
½ tsp Cinnamon
1 tbsp Maple Syrup
120ml Milk
70g Chocolate Chips (optional)
30g Salted or Unsalted Butter
Toppings
25g Roasted Nuts
Greek Yoghurt
Honey
Equipment – medium mixing bowl, whisk & non-stick frying pan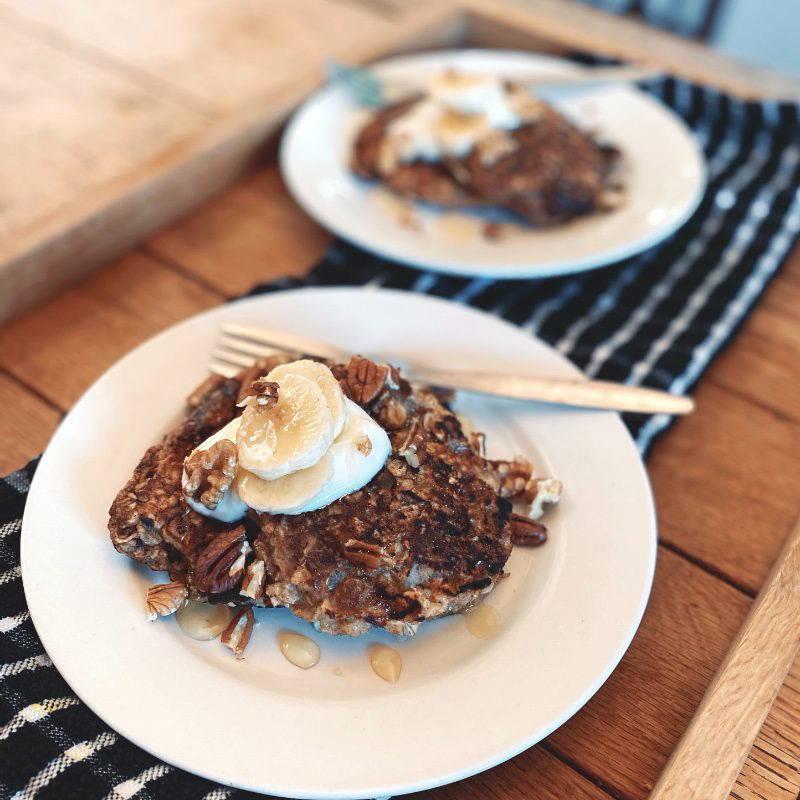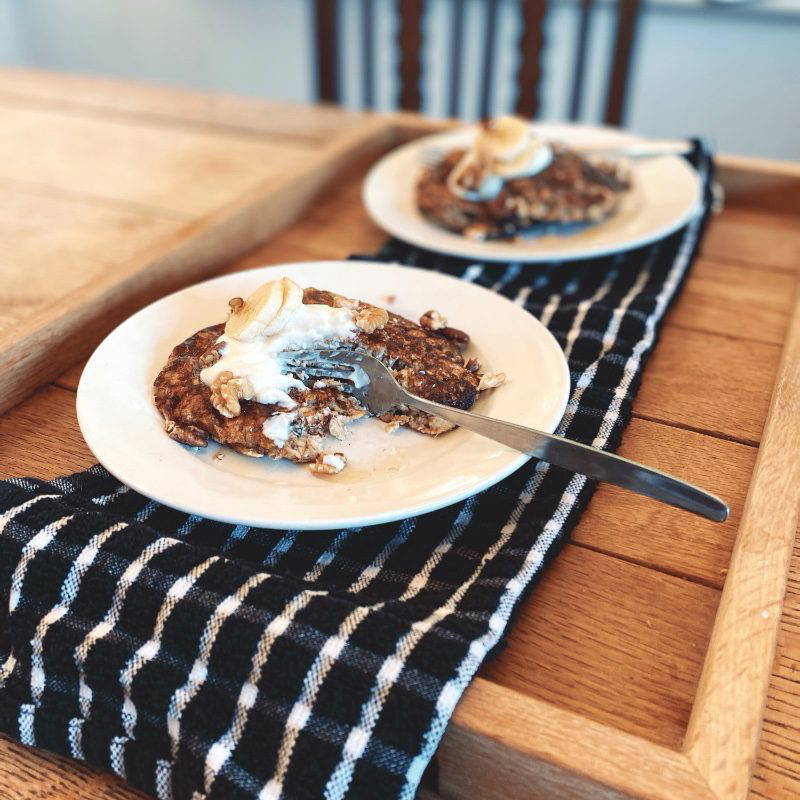 Step by Step Instructions
Step 1 – Make Pancake Batter
Mash the banana in a medium mixing bowl using a fork.
Add the oats, eggs, baking powder, cinnamon and maple syrup and whisk to combine the mixture.
Gradually add the milk until you have a pancake batter that has a dollop like consistency. Add the chocolate chips if you are using them.
Step 2 – Fry Pancakes
Heat a non-stick frying pan to a medium heat and add 15g of butter. Allow the butter to melt and add 3 ladles of the mixture to make three pancakes. Fry the pancake mixture in batches.
Fry for 2 minutes on the first side then it flip over. Please note this is quite a wet mixture so it will still look wet when you flip it. Fry for two minutes on the other side.
Flip the pancake back over if you think it needs to continue cooking in the middle.
Add the rest of the butter to the pan and cook the next batch of pancakes.
Serve with roasted nuts, Greek yoghurt and a drizzle of honey.
Substitutions
125g Jumbo Oats – 125g porridge oats (normal size)
½ tsp Cinnamon – ½ tsp Ginger
1 tbsp Maple Syrup – 1 tbsp Honey or Caster Sugar
120ml Milk – 120ml Oat Milk
30g Salted or Unsalted Butter – 30ml Rapeseed Oil or flavourless oil
Greek Yoghurt – Coconut Yoghurt