Beetroot Lentil & Goat's Cheese Gratin
Servings
3 as a main
6 as a side
Chef Tip:
It is important that this dish is well seasoned between the layers of beetroot, lentils and cream. Make sure you season the cream mixture, the beetroot and lentil mixture and the nut topping. That way you will have the seasoning running evenly throughout your dish.
One of the reasons why I love to cook with beetroot is because of its colour, my eyes and senses relish in the vibrant deep pink to such an extent that I don't mind the purple stains it leaves on my hands when preparing it. This is a pre-warning to wash your hands thoroughly after working with it, or you can embrace the warrior marks as a sign of appreciation to this purple rocket of a vegetable, I will leave that up to you.
Beetroot and goat's cheese is a flavour match and with the addition of the lentils, it works very well as a vegetarian main or as a side dish.
3 Large Raw Beetroots (about 620g)
250g Cooked Puy Lentils (about 110g uncooked)
300ml Double Cream
125g Soft Goat's Cheese
1 tbsp Creamed Horseradish
2 Garlic Cloves (crushed)
1 Lemon (juice)
60g Mixed Nuts (e.g Almonds, Cashews or Hazelnuts. Can use a mixture or just one)
2 Slices Bread (or 100g breadcrumbs)
2 Sprigs of Rosemary
Flakey Salt and Pepper
Equipment – 27cm Deep Roasting Tray
Please see ingredient substitution list at the bottom of the recipe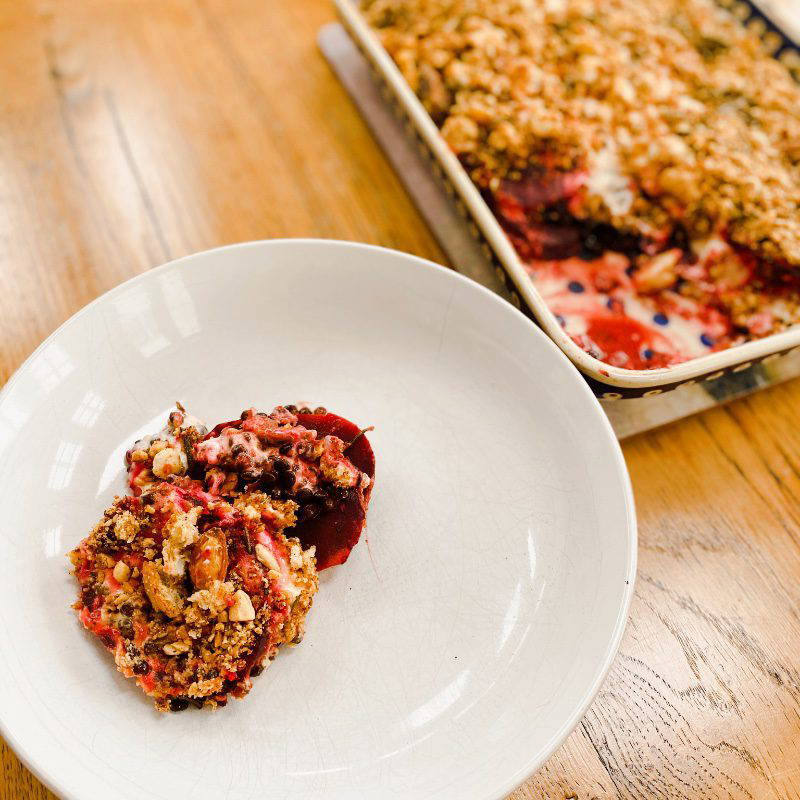 Step by Step Instructions
Step 1 – Heat Oven & Cook Lentils
Put oven on to 190C.
If you don't have the precooked lentils and are using dried lentils, cook 110g according the cooking instructions on the packet. Leave to cool.
Step 2 – Prepare Beetroot
Place beetroots in saucepan and cover with cold water
Bring up to the boil and simmer for 15 minutes
Drain and leave to cool
Step 3 – Make Gratin Sauce
Infuse the cream mixture. Add cream, crumbled goat's cheese, horseradish, crushed garlic and lemon juice to a saucepan and gently heat. Bring up to a gentle simmer (do not boil) and take off the heat
Stir sauce, breaking up the goat's cheese as much as possible. Season with salt and pepper
Step 4 – Combine Beetroot, Lentils & Cream
When beetroots are cool enough to handle, peel them. You should be able to do this with your hands or you can use a vegetable peeler
Slice into 1cm thick slices and add to bowl with cooked lentils. Season lightly with salt and pepper
Add beetroots and lentils to the gratin dish and spread out evenly
Pour cream mixture over the beetroot and lentil layers
Step 5 – Make Topping
If you are using sliced bread, toast in toaster for 4 minutes until very well toasted
Break up the bread with your hands and add to food processor with nuts, rosemary and flakey sea salt
Whizz up in a food processor (or chop by hand) until you have a chunky crumb, it can be quite rustic if you are using slices of bread rather than breadcrumbs
Add the breadcrumb, nut and rosemary topping to the gratin
Step 6 – Cook Gratin
Cover gratin dish with foil and bake in oven for 30 minutes
Remove foil and bake for a further 10-15 minutes. The topping should be golden brown, the beetroot cooked and the sauce should be bubbling and thickened
Enjoy it as a vegetarian main with greens or serve with a white fish, chicken or turkey and greens
Substitutions
620g Raw Beetroot – 620g Butternut Squash or pumpkin. This will totally change the dish but worth giving it a go. Don't cook the squash before, just thinly slice it and cook for 45 minutes covered with foil and a further 15 minutes without foil
250g Cooked Puy Lentils – 250g brown lentils or lentilles vertes
125g Soft Goat's Cheese – 150g cheddar or feta