Quinoa, Banana & Date Loaf
Servings
Makes 1 Loaf – 900ml
Chef Tip:
Vegan Version – this recipe works as a vegan loaf, it makes a denser loaf but slices well. Simply omit the eggs and whizz up all of the quinoa in the food processor. This helps bind the loaf together.
This is a fantastic sweet snack, great to have for breakfast, with some nut butter or jam, or a sweet afternoon snack. It is a very moist bake and packed full of nutrients with the quinoa and dates. Also a healthy option compared to an afternoon cake as there is less added sugar with only 4 tbsps of maple syrup and natural sweetness from the banana.
Does it freeze well? Yes
Please see ingredient substitute list at the bottom of the recipe.
250g Cooked Quinoa (110g uncooked quinoa)
3 Bananas
60g Softened Butter (or coconut oil)
3 eggs (omit eggs if making a vegan loaf)
1 tsp Bicarbonate of Soda
150g Ground Almonds
½ tsp Sea Salt
1 Lemon Juiced
1 tsp Vanilla Extract
2 tbsp Ground Cinnamon
4 tbsp Maple Syrup
150g Dates (or raisins)
Equipment – 900ml loaf tin, parchment paper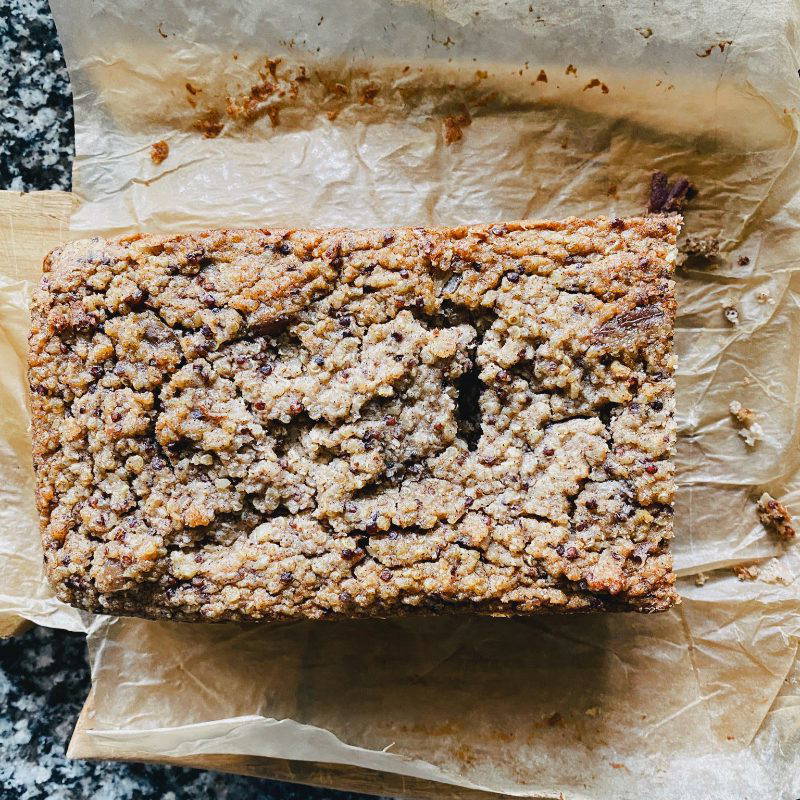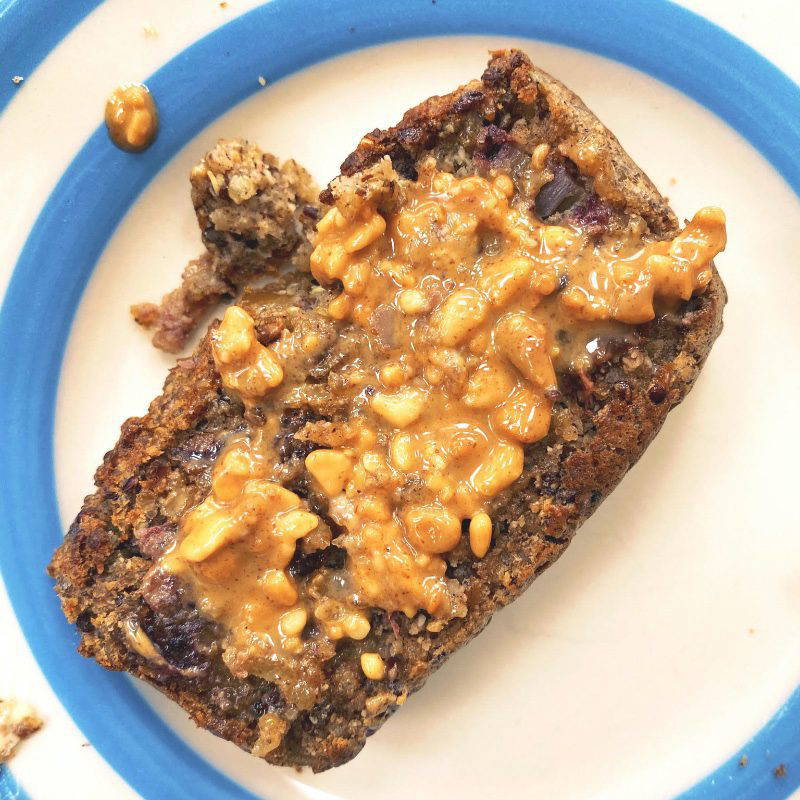 Step by Step Instructions
Step 1 – Cook Quinoa
Add quinoa to pan with 1.2 litres of water. Bring to boil and cook for 10 minutes.
Drain and leave to cool or run cold water over to cool it down. Make sure you train off the water before adding it to the rest of the ingredients.
Step 2 – Prepare Tin and Pre-Heat Oven
Line loaf tin (900g) with parchment paper. Put the oven on to 180C
Step 3 – Make Bread
Blend all of the ingredients, apart from the dates (150g). Blend in food processor or mix by hand.
Fold through all of the dates.
Transfer to loaf tin and smooth down.
Step 4 – Bake
Bake at 180C for 45 mins
Cover with parchment and foil and cook for a further 10 minutes. Test with a skewer which should come out clean.
Once cool, you can serve with nut butter or jam. Also delicious simply served as it is!
Substitutions
Butter – Coconut Oil, Olive Oil
Ground Cinnamon – Ground Ginger
Maple Syrup – Honey, Coconut Sugar
Dates – Dried fruit – Raisins, Apricots, Prunes, Figs
Ground Almonds – Flax seeds or gluten free flour (or plain flour – will not be gluten free though!)