Cambodian Inspired Lok Lak Curry
Chef Tip:
If you are not cooking for 5, rather than halving the ingredients, make the whole curry sauce recipe and try it with a different curry ingredient second time round, spicing up your Lok Lak!
I was lucky enough to travel to Cambodia at the beginning of the year. Now feeling like a dream and distant memory, I wanted to reignite my taste buds to take me back to the occasion when I had the best Lok Lak curry of the trip! Sitting amongst tree-tall flowering vines of peppercorns in a rural pepper farm in Kampot, which felt more like a luxury tropical garden than a farm, was where I was served this five-star Aubergine Lok Lak curry.
Kampot is the region where the mineral rich soil, combined with the unique climate, creates a pepper product with a true distinction and is becoming world famous for it. After exploring the farm and learning all about the sustainable farming methods that are involved in cultivating Kampot Pepper, we were invited to the 'La Plantation' peppercorn tasting experience. The guided twenty course tasting session of tantalising black, red, white and green peppercorn varieties, for me, beats any vineyard wine tasting experience.
Having enjoyed the taste and absorbed the knowledge of what each peppercorn variety has to offer, we were eager to try the Kampot Pepper in a dish. I was overcome with pure joy when I had the first mouthful of the Aubergine Lok Lak curry at La Plantation. The aubergine was cooked in a way that I have never had it before, the flesh was the melting centre of the tangy and fiery curry sauce.
Traditionally a Lok Lak Curry is served with beef, and a fried egg on top. Below is the recipe for the Lok Lak sauce and recommended curry ingredients – aubergine or beef, catering for the vegetarians and meat eaters.
Curry Sauce Ingredients
2 Onions
2 tbsp Coconut Oil
4 Garlic Cloves
1-2 Red Chillies (depends on preferred spice level)
1 Thumb Sized Piece of Ginger
1 tbsp Ground Pepper
500g Fresh Cherry Tomatoes
800ml Coconut Milk
2 tbsp Caster Sugar
3 tsp Fish Sauce (omit for vegetarian / vegan version)
3 tbsp Tamari
4 Spring Onions
30g Coriander
2 – 3 Limes (juiced)
Salt to taste
Please see ingredient substitution list at the bottom of the recipe
Select Your Curry Ingredients – Beef or Aubergine
Beef
200g Rump Steak Per Person
1 Egg Per Person
Aubergine – The aubergine is cooked in such a way that it becomes part of the sauce.
1 Aubergine Per Person
1 Egg Per Person
Curry Ingredients – Aubergine or beef recommended. Other ingredients such broccoli, red peppers, butternut squash, frozen peas, chickpeas or chicken would also work with the sauce! Join the Lok Lak fan club and get inventive.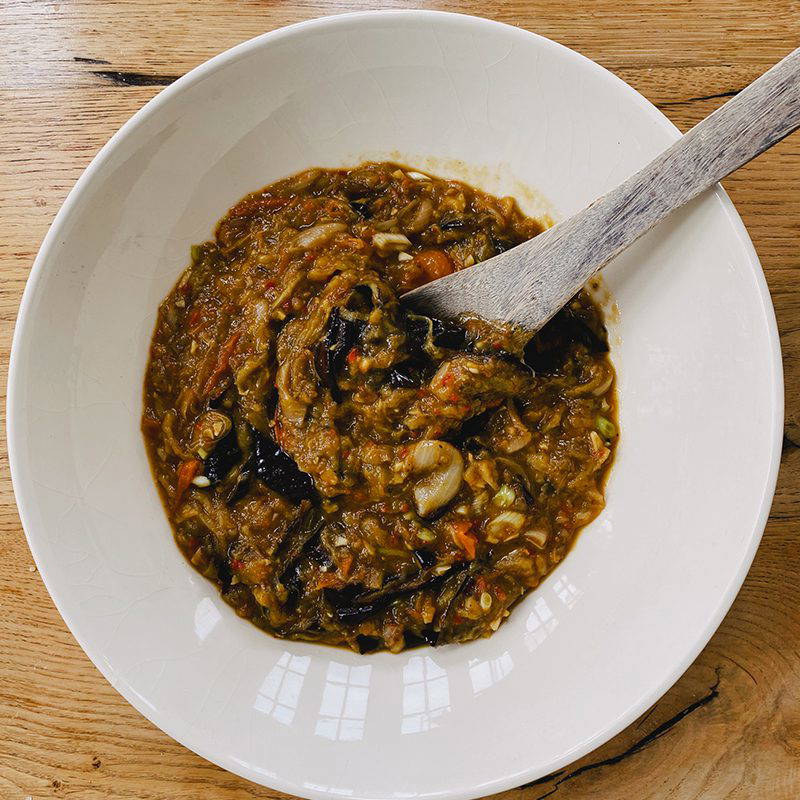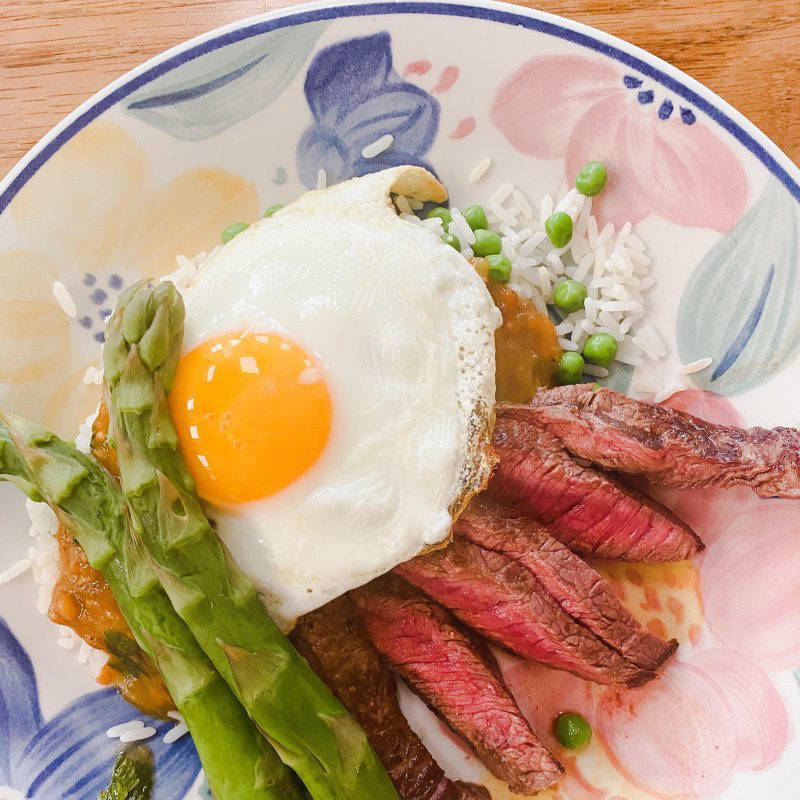 Step by Step Instructions
Step 1 – Prepare Onions and Fresh Spices
If making the aubergine version please see the bottom of the recipe first!
Peel and slice onions. Add oil to large saucepan and heat. Add sliced onions to hot oil
Whist onions are cooking prepare garlic, chilli and ginger
Peel garlic and finely chop
Slice chilli in half lengthways and de-seed. Cut into thin strips and then finely dice
Peel ginger and finely chop
Step 2 – Make Curry Sauce
Add garlic, chilli, ginger and ground pepper to softened onions and cook for 2 minutes
Add fresh tomatoes and coconut milk. Cook for 15 minutes until all of the tomatoes have broken up and the sauce has reduced in liquid volume by 1/3
When you have a slightly pulp like sauce add caster sugar, fish sauce, tamari and lime juice. Check seasoning and add salt if needed. The sauce should have a slight sweet and sour taste with a peppery kick
Step 3 – Prepare Toppings
Wash spring onions and remove the top green end and finely slice
Pick coriander leaves and chop
Step 4 – Curry Ingredients
1) 5 Aubergines
Before you start to make the curry sauce. Heat oven to 190C. Slice aubergines in half lengthways. Add to flat roasting tray and drizzle with olive oil and season with salt and pepper. Roast for 30-40 minutes until totally soft and coloured.
When you have made the sauce and the aubergines are cool enough to handle, finely slice the aubergine lengthways into thin strips. Add the sliced aubergines and their juices to the sauce and stir. The aubergines will melt into the sauce and add to the pulp like texture.
Heat the curry and top with spring onions and chopped coriander
Serve with steamed brown rice and greens
2) Beef Steak
When you have made the sauce, take a large frying pan and heat on high heat.
Season the steak with salt and pepper and fry on a high heat for 2 minutes (depends on thickness) on both sides.
Leave to rest on a chopping board for 2 minutes.
When ready to plate, slice the steak into thin strips and serve the sauce on top.
Top with spring onions and chopped coriander.
Serve with steamed brown rice and greens
Substitutions
2 Onions – red onion
2 tbsp Coconut Oil – rapeseed oil
1-2 Chillies (depends on spice level) – 1 tsp dried chilli flakes
500g Fresh Cherry Tomatoes – 400g tin tomatoes and 100ml veg stock
2 tbsp Caster Sugar – any sugar you have
3 tsp Fish Sauce – oyster sauce
3 tbsp Tamari – soy sauce
30g Coriander – parsley
3 Limes (juice) – 2 lemons (juice)