Chef Tip:
This recipe roasts the chicken on the bone ensuring that the chicken is super succulent and tasty. 
I wanted to create a speedy ragu that doesn't compramise on flavour. Chicken is the perfect meat choice for this as it does not require a 4 hour cooking time and the cooking method means that the chicken is easily shreddable and deliciously succulent.
Please see ingredient substitution list at the bottom of the recipe.
800g Chicken Thigh (with skin and bone)
2 Onions
2 Leeks
2 Carrots
120g Pancetta or Chorizo 
2 Garlic Cloves
2 Sprigs of Fresh Rosemary
2 Sprigs of Fresh Thyme
Spice mix – 1 tbsp Cumin & 1 tbsp Paprika
1 tbsp Tomato Purée
150ml Red Wine
2 400g Tins of Chopped Tomatoes
100ml Chicken Stock
1 ½ tbsp Worcestershire Sauce
1 lemon (juice) – optional
Olive Oil
Salt and pepper
Equipment – Chopping board, kitchen knife, Flat baking tray, large sauce pan, wooden spoon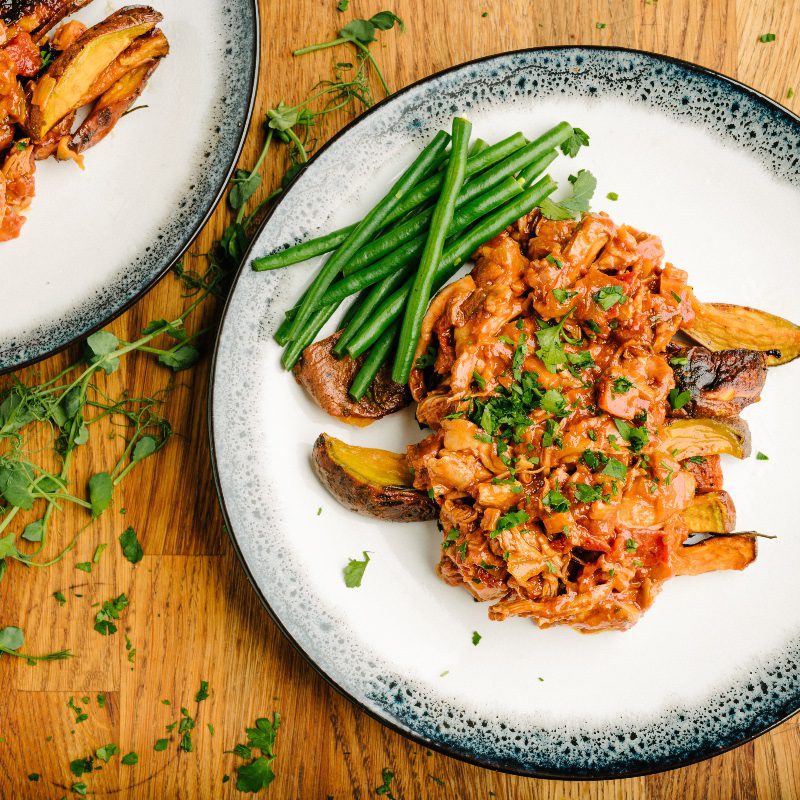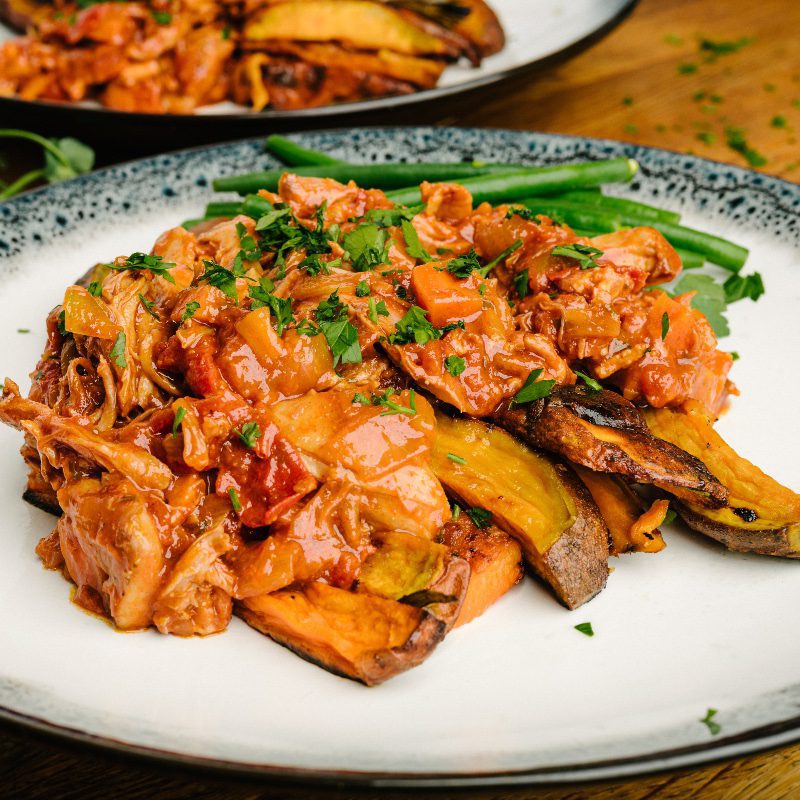 Step by Step Instructions
Step 1 – Roast Chicken
Pre-heat oven to 190C
Add chicken to baking tray, season with salt and pepper and roast in the oven for 40 minutes
Once it is cooked, shred the chicken using a knife and fork.
Step 2 – Make Sauce
Peel and dice the onions and the carrots to 1cm cubes.
Remove the top green end of the leeks and wash it in between the layers. Remove the brown root and dice it into 1cm cubes.
Heat a large saucepan up and add 1 tbsp olive oil. Add the diced vegetables and cook for 5 minutes until they have softened.
Dice up the chorizo/pancetta and add it to the softened vegetables. Cook for 4 minutes.
Peel and crush the garlic cloves. Pick the leaves of the fresh rosemary and thyme and finely chop them with the crushed garlic.
Add the crushed garlic and chopped herbs, spice mix and tomato purée to the cooked vegetables and chorizo/ pancetta and cook for 2 minutes.
Add the red wine, chopped tomatoes and chicken stock to the sauce pan. Simmer and reduce for 10 minutes.
 Once the sauce has thickened and reduced taste it and season it with the Worcestershire sauce, lemon juice, salt and pepper
Step 3 – Finish The Dish
Add the shredded chicken to the sauce and heat in the sauce pan.
You can serve it with the crispy chicken skin. You can crisp up the skin by roasted it in the oven on a flat baking tray for a further 4-5 minutes.
Substitutions
2 Onions – 3 Shallots
2 Leeks – 3 Celery Sticks
2 Sprigs of Fresh Rosemary – 1/2 tbsp Dried Mixed Herbs / 1/2 tbsp Dried Oregano
2 Sprigs of Fresh Thyme –  1/2 tbsp Dried Mixed Herbs / 1/2 tbsp Dried Oregano
Spice mix – 1 tbsp Cumin & 1 tbsp Paprika – 1 tbsp Ground Coriander / 1/2 tbsp Chilli Flakes / 1/2 Cayenne Pepper
1 tbsp Tomato Purée – 1 tbsp Harissa
2 400g Tins of Chopped Tomatoes – 800g Passata
100ml Chicken Stock – 100ml Vegetable/ Beef Stock
1 ½ tbsp Worcestershire Sauce – 1 tbsp Soy Sauce / Tamari 
Olive Oil – Rapseed Oil