Chocolate Cheesecake Brownies 
Ready In:
1 hr – 1 hr 15 mins
Chef Tip:
If you can wait, allow the brownies to cool before portioning them up. This will mean that they will cut into perfect squares. 
This one is for the chocolate lover who wants to impress and please a crowd. The perfect brownie mix combined with a cheesecake swirl of a topping makes a fancy  brownie which is too difficult to resist. 
Please see ingredient substitution list at the bottom of the recipe.
225g Dark Chocolate
150g Salted Butter
250g Light Brown Sugar
3 Eggs
80g Plain Flour
100g Milk Chocolate Chips
Cheesecake Topping
200g Cream Cheese
45g Caster Sugar
Equipment – 22cm square baking dish, baking parchment paper, heatproof bowl, medium saucepan, wooden spoon, spatula/ metal spoon, sieve & whisk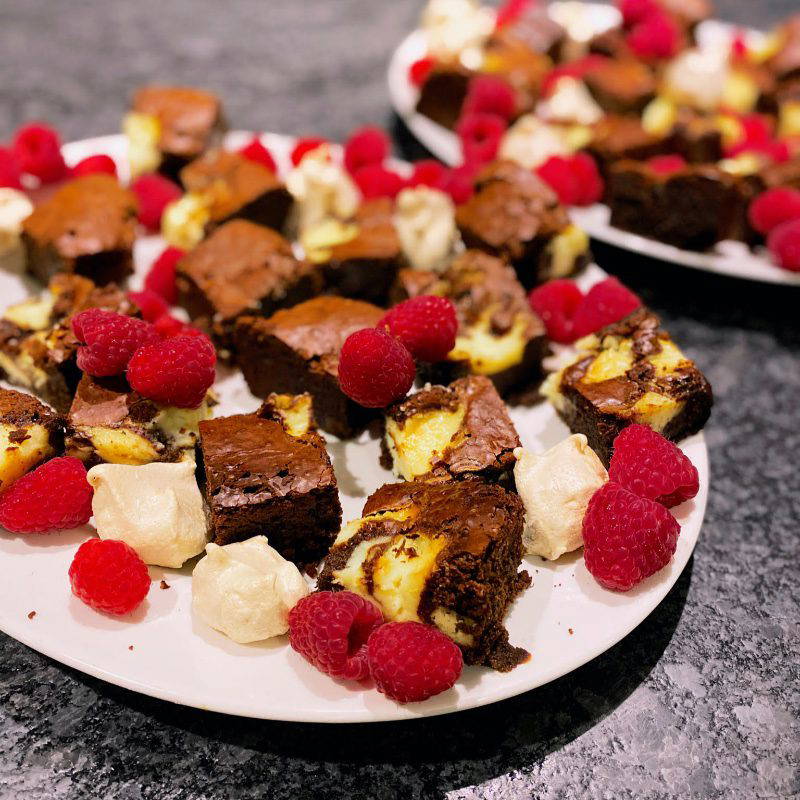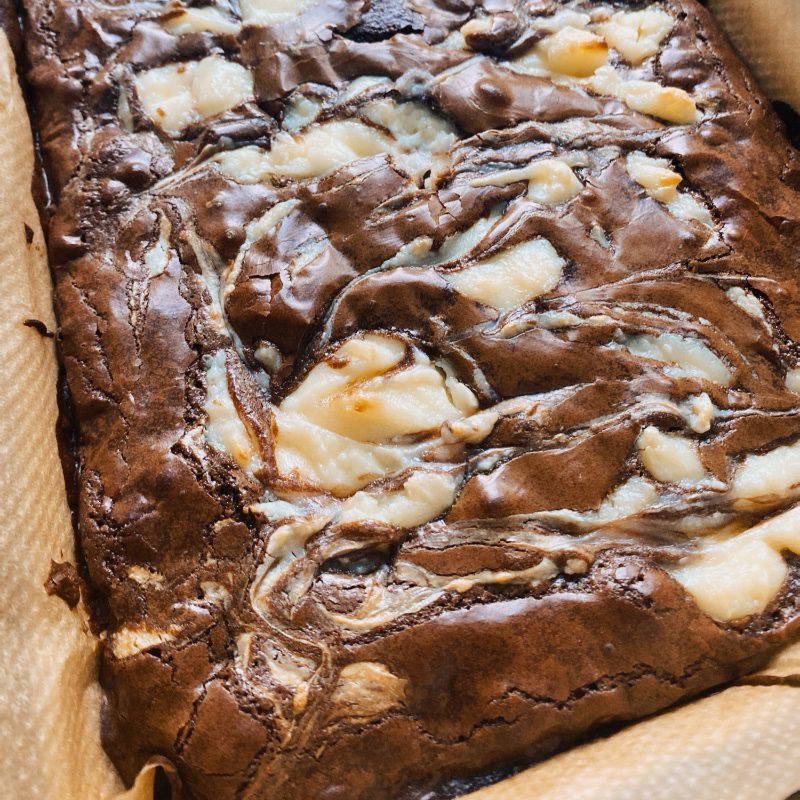 Step by Step Instructions
Step 1 – Set Up Ready For Baking
Line a 22cm square baking dish
Turn oven on to 180C
Step 2 – Melt Chocolate & Butter
Break the dark chocolate into pieces and place it in a heatproof bowl. Cut the butter into small cubes and add to the dark chocolate.
To melt the dark chocolate, stand the bowl in a pan of gently simmering water, ensuring that the base of the bowl does not come into contact with the water. Stir the dark chocolate occasionally. Alternatively, you can melt the dark chocolate and butter in a microwave.
Whisk in the sugar using an electric or hand-held whisk.
Whisk in the eggs and beat until they are smoothly combined.
Step 3 – Add Dry Ingredient
Sift over the flour and add the milk chocolate chips. Stir using a spatula until it is evenly combined.
Add the brownie mix to your prepared baking dish.
Step 4 – Add Cheesecake Topping
Mix together the cream cheese and sugar.
Spoon the cream cheese mix on top of the brownie mixture and swirl both mixtures together using the tip of a knife.
Bake in the oven for 35-40 minutes. Turn the baking dish round half way through cooking.
How To Know When It Is Cooked
You know it is cooked when the top of the brownie mix looks set. A knife can be inserted in the middle and comes out with moist crumbs (not wet batter) clinging to it. It does not need to be totally dry like a cake and it is better to slightly undercook than overcook brownies.
They should still be fudgy in the middle and will become less moist as they cool.
Leave to cool before portioning them out.
Substitutions
100g Milk Chocolate Chips – 100g White Chocolate Chips
300g Light Brown Sugar – 300g Dark Brown Sugar
80g Plain Flour – 80g Gluten Free Plain Flour or 80g Ground Almonds
60g Caster Sugar – 60g Icing Sugar