Coronation Cauliflower (vegan)
Servings
Main – Serves 4 with sides and salads
Chef Tip:

Make sure you allow the cauliflower to totally cool before adding the coronation dressing.
This Coronation Cauliflower recipe keeps it nice and light and makes a great centrepiece to any lunch spread. It also minimises food waste by roasting the cauliflower leaves as well as the florets. I would recommend serving it with at least two sides – serve it with a rice salad or in a wrap jazzed up with a crunchy slaw!
1 Large Cauliflower
1 tbsp Curry Powder
1 tsp Turmeric
4 tbsp Tahini
1 Garlic Clove (crushed)
1 Lemon (juice)
3 tbsp The Coconut Collaborative Natural Coconut Yog
2 tbsp Mango Chutney
4 Spring Onions
25g Fresh Coriander
Toasted Flaked Almonds
Salt and Pepper
Equipment – Chopping board, kitchen knife, large flat roasting tray, small & large mixing bowl.
Please see the substitution list at the end of the recipe.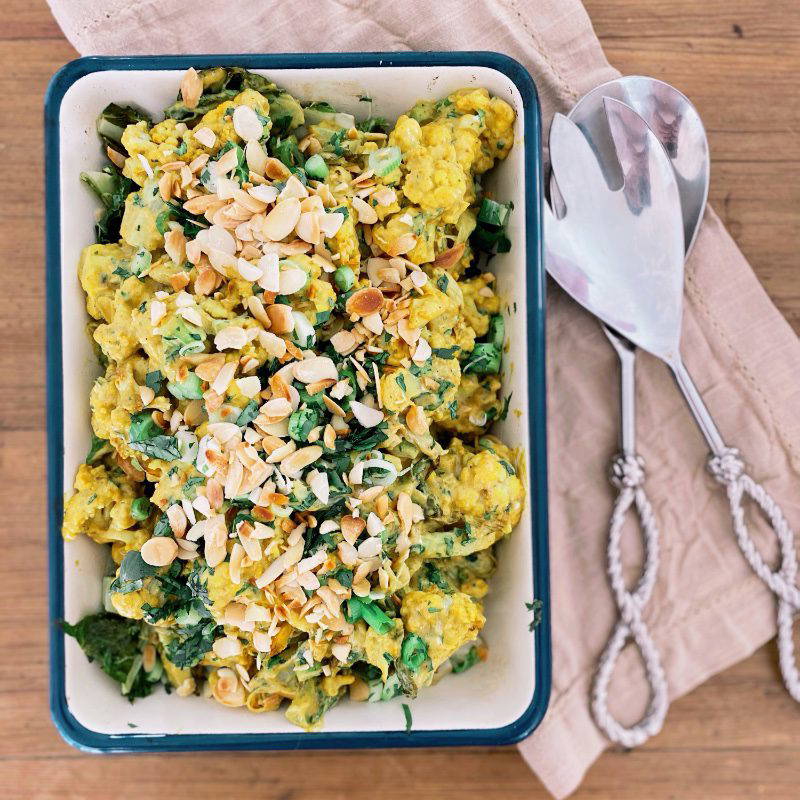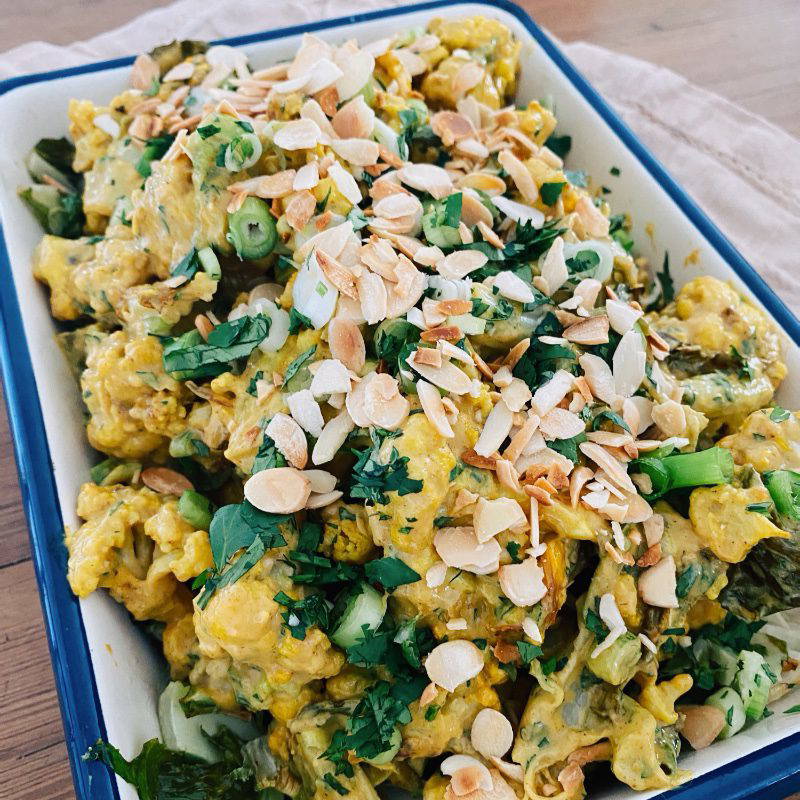 Step by Step Instructions
Step 1 – Roast Cauliflower
Heat oven to 200C and add a large flat baking tray to the oven to heat up.
Cut the cauliflower into even sized florets and add to a mixing bowl. Shred the cauliflower leaves, keeping them separate from the cauliflower florets. Wash the leaves and set them aside.
Drizzle the cauliflower florets with olive oil. Add the curry powder, turmeric and salt and pepper. Mix to combine everything.
Add the cauliflower florets to the hot baking tray and make sure they are in one even layer. Roast in the oven for 12 minutes until they have charred slightly.
Add the shredded cauliflower leaves to the roasted florests and roast for a further 10 minutes until the leaves have gone slightly crispy. Remove from the oven and leave to cool.
Step 2 – Make Vegan Coronation Dressing
Add tahini, crushed garlic clove, lemon juice, vegan yogurt and mango chutney to a small mixing bowl. Whisk to combine everything.
Step 3 – Chop Additional Ingredients
Remove the root end and green end from the spring onion. Wash in between the green layers. Finely slice the spring onions.
Wash and pick the leaves of the coriander. Finely chop the leaves.
Step 4 – Combine All Ingredients
Add the cooled roasted cauliflower to a mixing bowl. Add the dressing, chopped spring onions and coriander. Taste it and season with salt and pepper.
Add the Coronation Cauliflower to a serving platter and sprinkle over the toasted flaked almonds.
Substitutions
1 tsp Turmeric – ½ tsp Cinnamon or ½ tsp Chilli Flakes or ½ Cajun pepper
3 tbsp Vegan Yogurt – 2½ tbsp Vegan Mayonnaise
4 Spring Onions – 2 tbsp Chopped Dried Apricots
25g Fresh Coriander – 15g Chives or 25g Fresh Parsley
Toasted Flaked Almonds – Toasted Pine Nuts