Green Goodness Chickpeas & Rainbow Bowl
Chef Tip: The more colour you add to this bowl, the better it is for the gut. 
This is your good for the gut rainbow bowl by getting as many different plant varieties into one bowl and topping with the creamy chickpeas.
Green Goodness Chickpeas
1 Avocado
3 tbsp Thick Greek Style Yogurt
1 Lime (juice)
1 tbsp Chopped Herbs (coriander or parsley)
½ Garlic Clove crushed)
2 Spring Onions (sliced)
400g Can of Chickpeas
300g Extra Firm Tofu (sliced into strips)
4 tbsp Tamari
1 tbsp Siracha
Rainbow bowl Suggestions: Rice noodles, shredded baby gem lettuce, carrot strips, sliced peppers, sliced cucumbers.
Dressing for rainbow bowl items: 100g Tahini, 1 Lime, 1 ½ tbsp Tamari, 1 tbsp maple & 1 tbsp Gochujang Chilli Sauce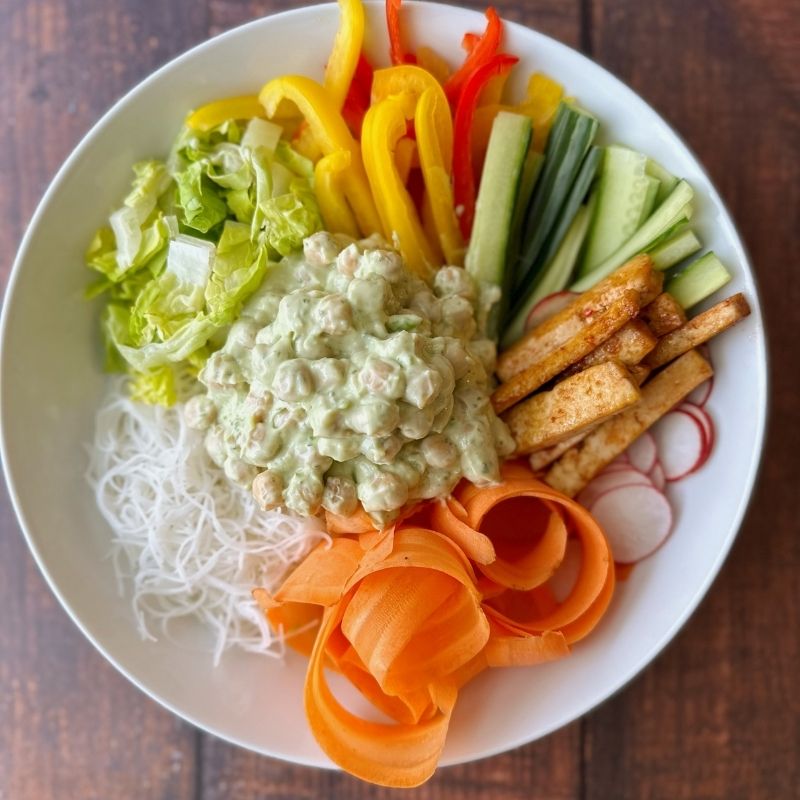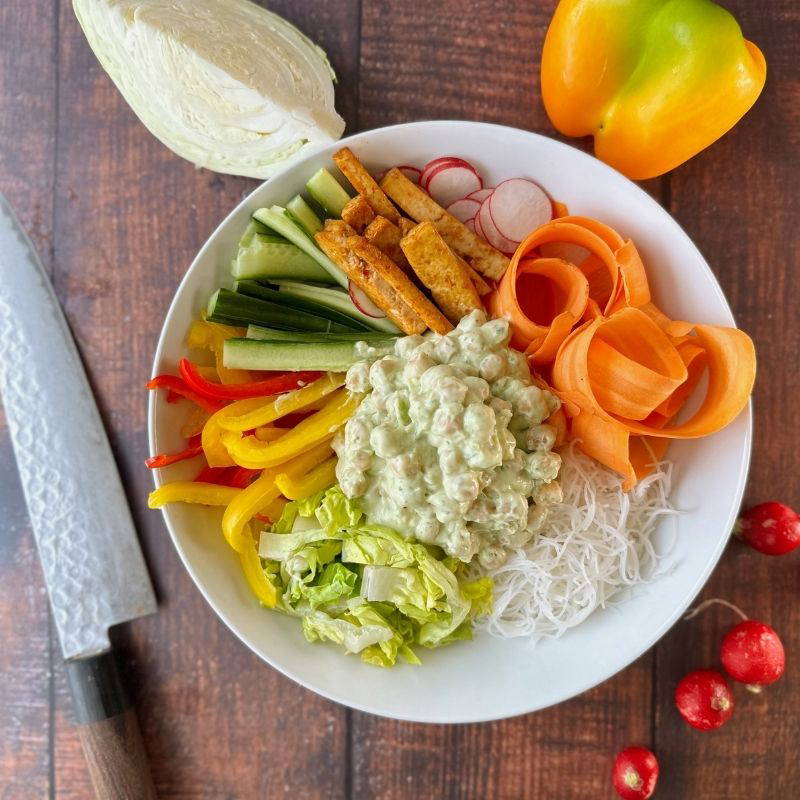 Step by Step Instructions
Step 1 – Make The Green Goodness Chickpeas
Add all of the ingredients other than the chickpeas to a blender. Blend until smooth.
Loosen it up with a dash of water.
Add the mixture to a bowl and stir through the drained chickpeas. Season with salt and pepper.
Step 2 – Cook The Tofu
Add the tofu to a hot pan and fry for 4 minutes until they have started to colour. Add the tamari and the siracha and cook until the tofu is coated.
Step 3 – Make The Dressing
Add the dressing for the rainbow bowl to a small mixing bowl and stir to combine the ingredients. Add a little water to loosen it up if necessary.
Step 5 – Assemble The Rainbow Bowl
Add all of the rainbow bowl ingredients to a serving bowl, drizzle over the dressing and top with the green goodness chickpea.