Hake, Mushroom, Spinach & Pesto Traybake
Chef Tip:

This recipe using hake as the fish however it would be delicious with another meaty fish such as salmon.
Recipe in Collaboration with the Cornish Fishmonger
This is a super simple way of cooking a meaty white fish such as hake. The creamy mushroom, cannellini bean and pesto traybake makes a delicious sauce for the hake. I created this recipe in collaboration with The Cornish Fishmonger as an Easter fish centre piece for the table.
2 Leeks
2 Garlic Cloves
2 Sprigs Rosemary
2 400g Tins Cannellini Beans
200ml Stock
2 tbsp Tamari or Soy Sauce
300g Mushrooms
125g Baby Spinach (washed)
300ml Cream
2 tbsp Pesto
4 Fillets of Hake
Olive Oil
Salt & Pepper
Equipment – Chopping board, kitchen knife, deep roasting tray & frying pan, saucepan.
Please see the substitution list at the end of the recipe.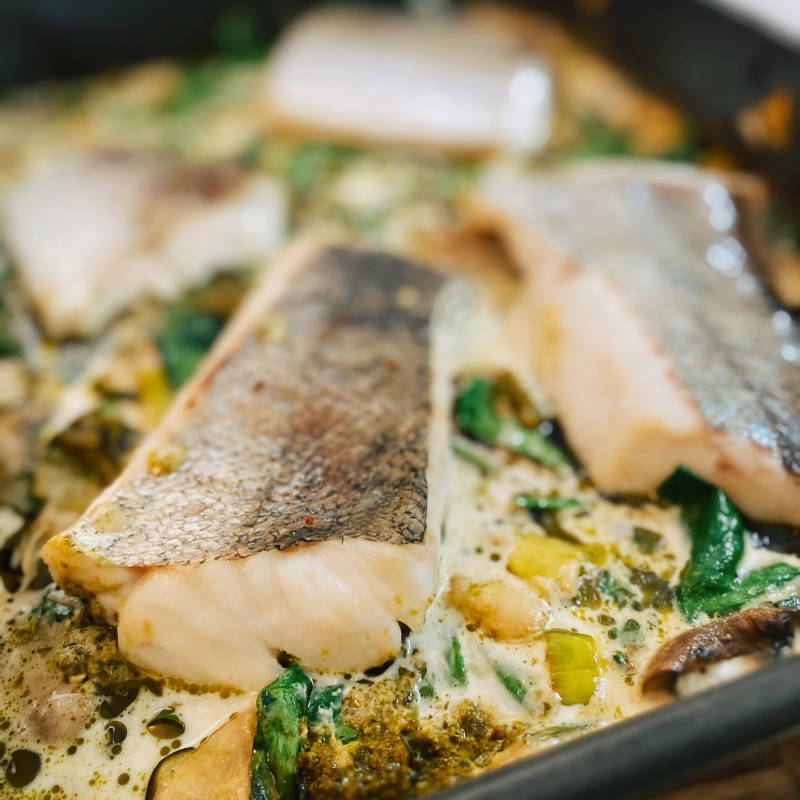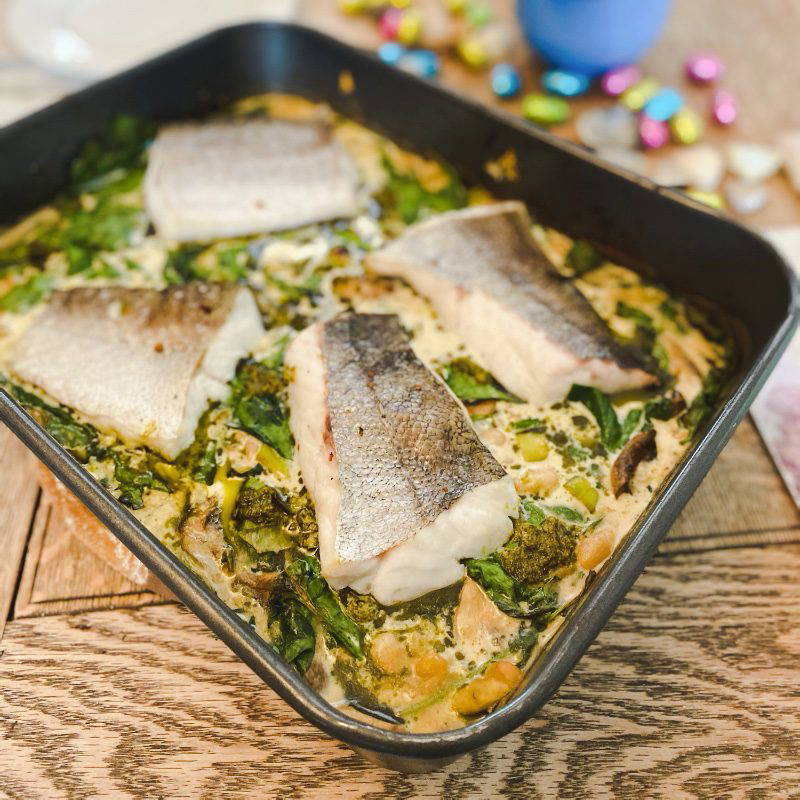 Step by Step Instructions
Step 1 – Cook Leeks
Heat oven to 200C
Remove the top green end and the root end from the leek and wash in between the green layers. Slice the leeks into thin rounds.
Heat a large frying pan up and add 1 tbp of olive oil. Fry the leeks for 5-8 minutes until they have softened.
Peel and finely chop the garlic cloves. Pick the leaves from the rosemary and finely chop them.
Add the garlic and chopped rosemary to the leeks and cook for 2 minutes
Step 2 – Traybake
Finely slice the mushrooms and add them to deep baking dish. Drizzle over the tamari and season with salt and pepper.
Add the cooked leeks, stock and drained cannellini beans to the tray. Cook in the oven for 15 minutes.
Take the tray out of the oven and add the cream and spinach. Drizzle the pesto all over the traybake.
Add the hake fillets on top and cook for a further 10 minutes until the hake is cooked through.
Serve immediately.
Substitutions
2 Leeks – 2 Brown Onions
2 Sprigs Rosemary – 2 Sprigs Thyme
2 400g Tins Cannellini Beans – 2 400g Tins Butter Beans
300ml Cream – 300ml Dairy Free Cream
2 tbsp Pesto – 2tbsp Salsa Verde
4 Fillets of Hake – 4 Fillets of Salmon/ Cod