Herby Baked Haddock with Bacon Braised Lentils and Greens
Chef Tip:

Remove the skin before baking the fish. I only like to serve fish skin if I have fried it and it is crispy.
Recipe in Collaboration with the Cornish Fishmonger
Haddock is a beautifully delicate fish and this baked recipe, keeps it simple and the herby breadcrumb topping provides a flavoursome and fresh topping.
Haddock
2 Haddock Fillets (skinless)
50g Fresh White Breadcrumbs
1 Lemon (whole lemon zested and ½ lemon juiced)
2 tbsp Chopped Fresh Herbs (e.g. parsley, tarragon or chives)
30g Salted Butter (melted)
½ tsp Dijon Mustard
Lentils & Greens
250g Cooked Puy Lentils
1 Onion
1 Carrot
1 Stick of Celery
1 Garlic Clove
1 Small Bunch of Thyme
70g Streaky Bacon
1 ½ tsp Red Wine Vinegar
120g Fine Green Beans (trimmed)
Olive Oil
Salt and Pepper
Equipment – Chopping board, kitchen knife, flat baking tray, frying pan, saucepan & small mixing bowl.
Please see the substitution list at the end of the recipe.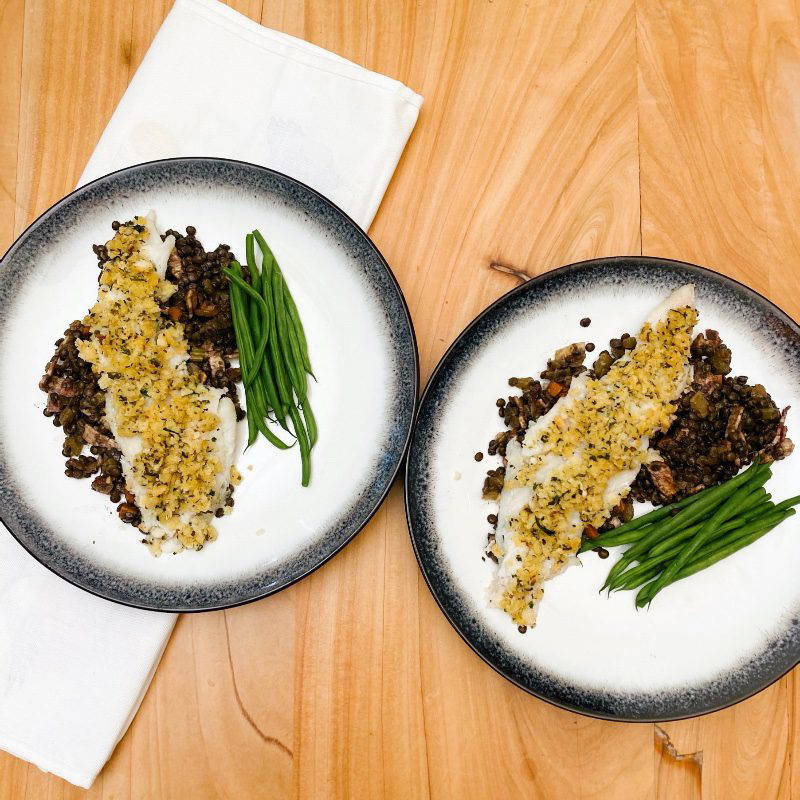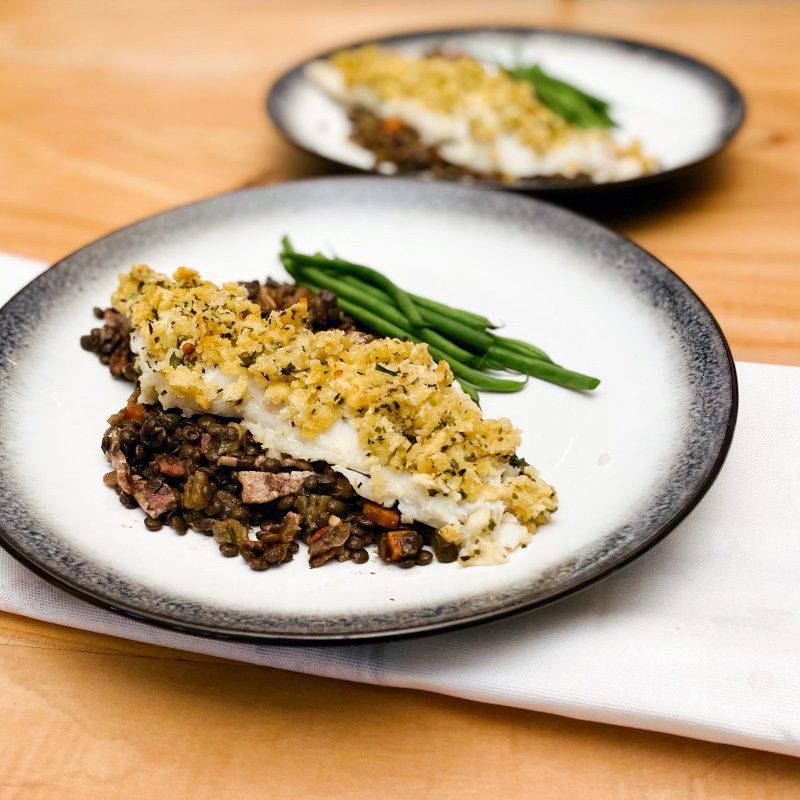 Step by Step Instructions
Step 1 – Make Herby Crust
Combine, breadcrumbs, lemon zest, ½ lemon juice, chopped herbs, melted butter and dijon mustard in a small mixing bowl.
Season with salt and pepper and set aside.
Step 2 – Make Lentil Dish
Peel and dice the onion. Wash the celery and peel the carrot and dice them up to a similar size to the diced onion.
Heat a frying pan and add 1 tbsp of olive oil. Add the diced vegetables and cook for 8 minutes until they are soft.
Slice up the bacon into thin strips and add it to the soft vegetables. Cook for 5 minutes until the bacon is cooked.
Peel and finely chop the garlic clove. Pick the leaves of the thyme and finely chop them.
Add the chopped garlic and chopped thyme to the cooked bacon and vegetables and cook for 2 minutes.
Add the cooked lentils to the vegetables and bacon pan and combine to warm the lentils.
Add the red wine vinegar, salt and pepper. Add a drizzle of olive oil if the lentils look a bit dry
Keep the lentils warm in a pan until you are ready to plate up
Step 3 – Cook Haddock & Greens
Heat oven to 200C
Add the skinless haddock fillets to a flat baking tray and season with salt and pepper.
Top each fillet with the breadcrumb mix, drizzle with olive oil and bake in the oven for 10 minutes until the fish flakes slightly when pressed and the crust is crispy and golden.
Add green beans to a pan of boiling water and cook for 4 minutes until they are al dente.
To serve add the lentils to plate, top with the haddock and the greens on the side.
Substitutions
2 Haddock Fillets – 2 Hake Fillets, 2 Cod Fillets or 2 Pollock Fillets
50g Fresh White Breadcrumbs – 50g Gluten Free Breadcrumbs
30g Salted Butter (melted) -30g Dairy Free Butter
½ tsp Dijon Mustard – ½ Wholegrain Mustard
250g Cooked Puy Lentils – 110g Dried Green/ Puy Lentils
1 Onion – 2 Shallots
1 Stick of Celery – 1 Red Onion or Brown Onion
1 Small Bunch of Thyme – 1 Small Bunch of Rosemary
70g Streaky Bacon – 70g Chorizo
1 ½ tsp Red Wine Vinegar – 1 2/2 tsp Cider Vinegar
120g Fine Green Beans (trimmed) – 120g Broccoli or Spring Greens
Olive Oil – Rapseed Oil