Whole Roasted Monkfish Tail with Roasted Creamy Leeks
Chef Tip:
Salting the fish is an important step. This must be done before you cook it as it helps flavour the fish as well as drawing out excess moisture.
This garlic and herb infused monkfish recipe is cooked on the bone, keeping the flesh flavoursome and moist. The creamy leeks make a delicious side dish to the meaty fish and you could serve it with mashed potato to soak up the cooking juices.
Serves 4
Monkfish
1 Whole Monkfish Tail (with bone in)
Kosher Salt for Monkfish
3 tbsp Olive Oil
50g Butter (cubed)
½ Garlic Bulb (peeled)
10g Rosemary
10g Sage
Salt and Pepper
Creamy Leeks
3 Leeks
10g Thyme
1 tbsp Olive Oil
150ml Double Cream
30g Toasted Chopped Hazelnuts (optional)
Salt and Pepper
Serving suggestions – Mash Potato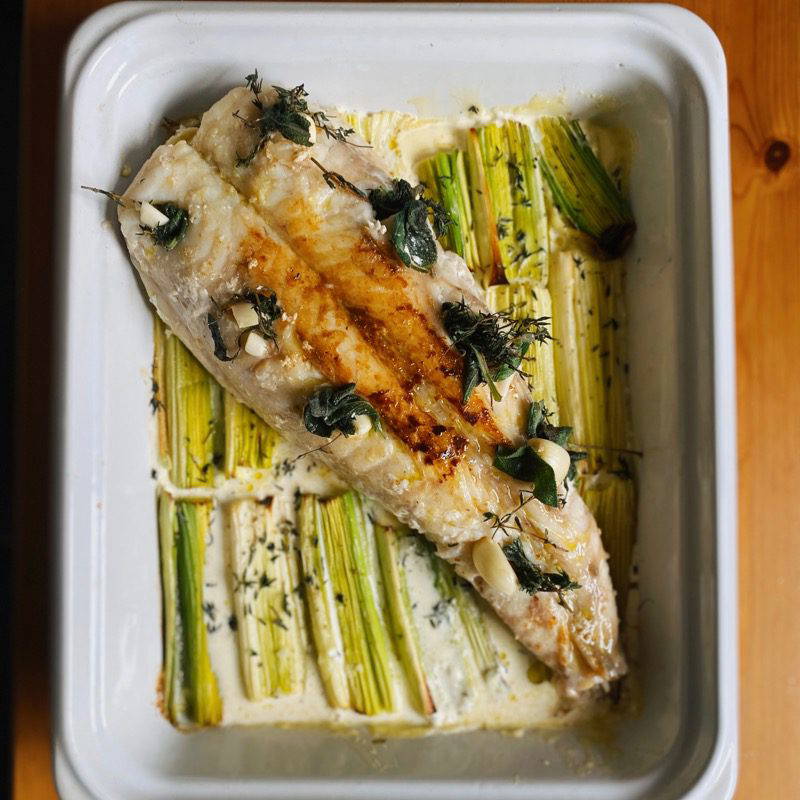 Step by Step Instructions
Step 1 – Prep Monkfish
Using a knife trim away the tough sinew on the monkfish tail.
Cover the monkfish with a layer of salt on both sides. Leave the salt brine on the fish for 10 minutes.
After 10 minutes, wash the salt off and pat the monkfish dry.
Leave it out of the fridge for 30 minutes before cooking.
Step 2 – Creamy Leeks
Heat oven to 190C
Slice the leeks in half length ways. Cut each leek half into 3 chunks. Wash the leeks in between the layers.
Add the prepped leeks to a large baking dish. Pick the leaves of the thyme and add them to the leeks. Drizzle with olive oil and add the double cream. Season with salt and pepper.
Roast the leeks for 20 minutes.
Step 3 – Cook Monkfish
Heat an extra large frying pan up to a high heat. Add oil and when it is piping hot add the monkfish tail.
Brown the fish for 3-4 minutes. Flip the fish over and add the butter. Baste the fish with the butter and cook for another 3-4 minutes.
When browned remove the fish from the heat and add it to a large chopping board.
Cut small incisions into the flesh of the monkfish. Add the peeled garlic cloves to the incisions with a couple of rosemary sprigs and sage leaves.
After 20 minutes, take the leeks out of the oven. Add the prepped monkfish on top of the leeks. Drizzle with olive oil.
Cook the monkfish for 20-25 minutes.
Step 4 – Plate Monkfish
After 20 minutes, take the monkfish out of the oven and check it is cooked through. Remove the whole garlic cloves and leave the fish to rest for 5 minutes.
Fillet the monkfish by slicing the flesh from the bone. Plate up with the creamy leeks and toasted chopped hazelnuts.
Serve with mashed potato.