Mushroom Tacos with a Peanut Tahini Dressing
Servings
Makes 10 Mini Tacos
Chef Tip:

Add in different seasonal and colourful garnishes to pack these tacos with a wider variety of different plants. This includes nuts, seeds and herbs as well as vegetables and legumes.
These mushroom and corn tacos make the most umami flavoursome light lunch with a nutty protein packed dressing.
Umami Mushrooms
300g Mushrooms (sliced)
3 Tbsp Olive Oil
½ tsp Chinese 5 spice
2 tbsp Tamari
Toasted Miso Corn
1 tbsp Oil
340g Sweet Corn
1 tsp Miso
½ tbsp Mirin
Tahini Peanut Dressing
2 tbsp Oil
1cm Ginger (chopped)
1 Red Chilli
½ tsp Black Pepper
1 tbsp Toasted Sesame Oil
1 tbsp Tahini
1 tbsp Crunchy Peanut Butter
1 tbsp Tamari
2 tbsp Black Rice Vinegar
1 tbsp Water
10 Mini Taco Wraps
Garnish – Rocket & carrot strips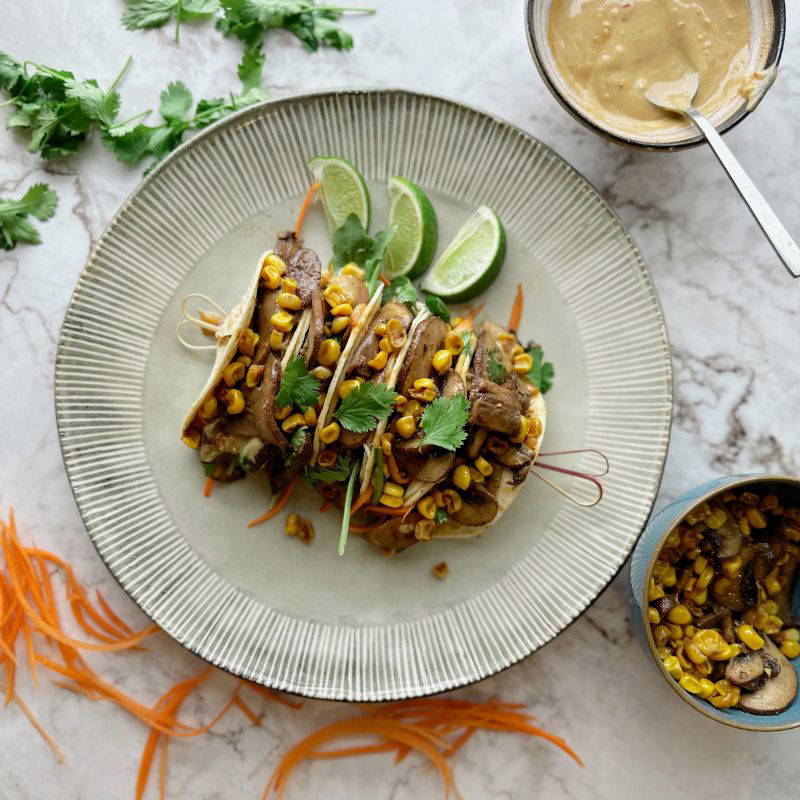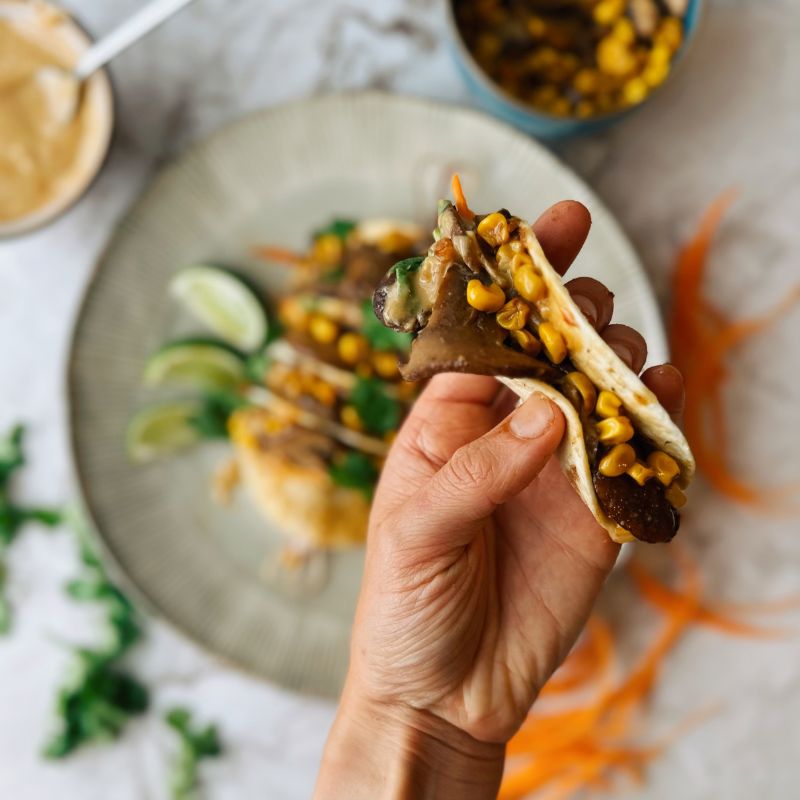 Step by Step Instructions
Step 1 – Cook The Mushrooms & Corn
Heat a frying pan up and fry the mushrooms in the oil until the water has evaporated and they have started to crisp up.
Add the spice and tamari and continue to cook for 2 minutes. Remove the mushrooms from the pan and add them to a mixing bowl.
Drain the corn and add it to the frying pan and cook for 5 minutes until toasted. Add the miso and mirin and cook for a further 4 minutes until the corn has absorbed the miso. Add the fried corn to the mushrooms and stir to combine them.
Step 2 – Make The Dressing
Combine all of the dressing ingredients in a mixing bowl. Add a dash more water if the sauce is a little think or if it looks like it might split.
Step 3 – Make Wraps
Make the wraps by adding rocket, carrot strips, the mushroom mix to each wrap and drizzle over the dressing.