Parsnip Soda Bread & Parsnip Crisps 
Chef Tip: Use whichever in season herb you have, I have suggested chives or parsley but thyme or rosemary would also be good. 

 
Raise your lunch game and make the most of late-season parsnips with these two winter recipes set to warm your cockles. When parsnips are late in the season, they can be a little woody in texture and so it is best to use them as a flavour rather tan a main ingredient. 
Serves 6
350g Plain flour
100g Wholemeal flour
50g Rolled oats
1 tsp Maldon sea salt
1 tsp Bicarbonate of soda
150g Parsnip, peeled and grated
100g Yeo Valley Organic Cheddar Cheese, grated
3 tbsp Chopped herbs – chives or parlsey
300g Yeo Valley Organic Natural Yogurt
100-150ml Yeo Valley Organic Whole Milk
Parsnip Crisps
3 Parsnips
1-2 tbsp Gluten free flour
Pinch of salt
Organic rapeseed oil to half fill a deep saucepan for frying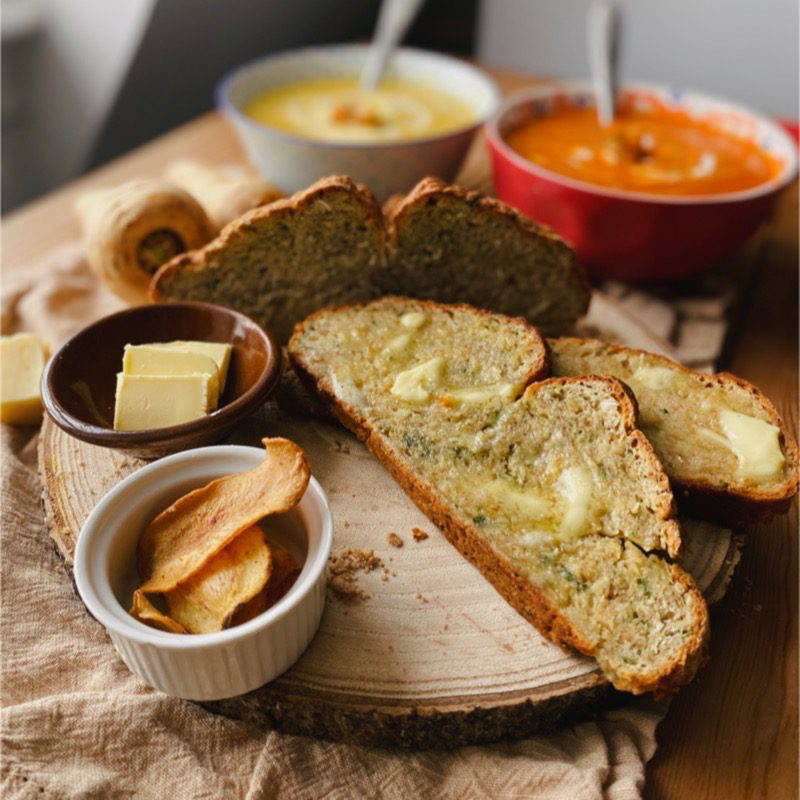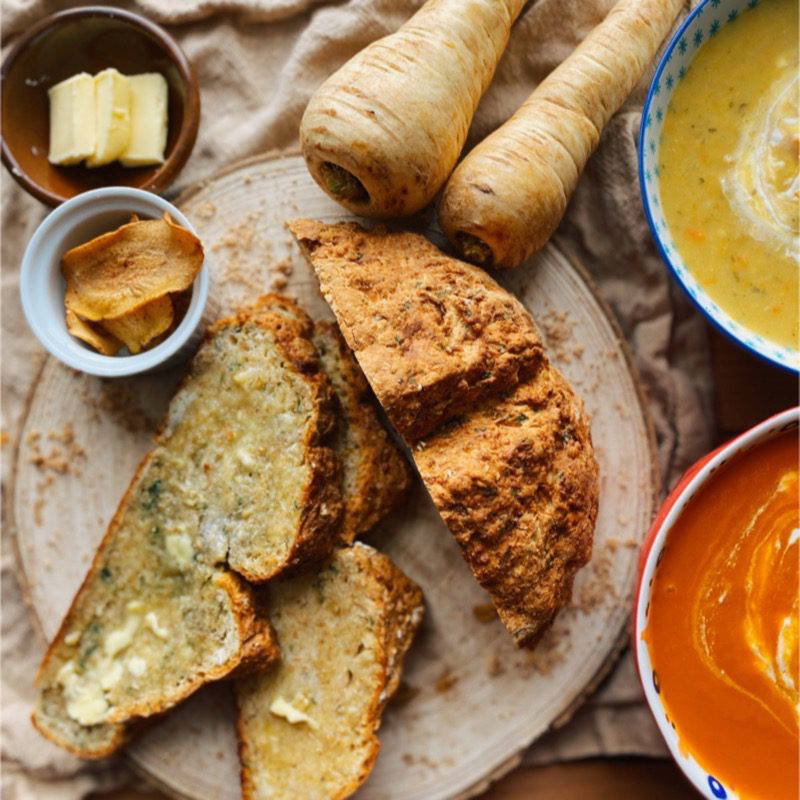 Step by Step Instructions
Step 1 – Make The Dough
Preheat the oven to 190°C
Brush a flat baking tray with oil.
Mix the flours, oats, salt and bicarbonate of soda together in a large mixing bowl. Stir in the parsnip, grated cheddar cheese and the chopped chives.
Mix together the yogurt and 100ml of the milk.
Make a well in the centre of the flour, add the yogurt and milk mixture and combine the ingredients until it comes together into soft, slightly sticky dough. If the dough is a little dry, add the extra milk, up to 50ml as required.
Turn the dough out onto a lightly floured surface and knead very lightly and very briefly until it comes together into a ball.
Shape it into one large dough ball, then cut a deep cross into the top of it, about half way down through the dough.
Step 2 – Bake The Bread
Bake the bread in the middle of the oven for 15 minutes, then lower the oven temperature to 170°C and bake for a further 20 minutes. Turn the oven down to 160°C and bake for a further 10 minutes, until the dough is richly golden, and the dough sounds hollow when tapped on the bottom.
Step 2 – Make parsnip Crisps 
Peel and thinly slice the parsnips. Add them to a mixing bowl, mix with flour and season with salt.
Half fill a large deep saucepan with oil. Heat until the oil reaches 170°C.
Add the parsnips and cook for 3 minutes until they are crispy and golden brown.