Poached Chicken and Foraged Vegetable Soup
Chef Tip:
Briefly blanching the foraged greens for 60 seconds, keeps them vibrant green and freshly tasting. They can be bitter on their own and so the addition of lemon juice and Crème fraîche helps balance the flavour.
Recipe in Collaboration with Biome Box
This decedant offering of mix foraged greens, including a mixture of aromatic alexanders, chervil, rosy garlic, ramsons and vivid green three cornered leeks, makes the most nourishing spring soup. The addition of poached chicken adds extra protein and flavour to the dish. I created this recipe from Biome Box's March box, which was packed full of foraged goods, all from small scale food growers!
Serves 2
2 Leeks
2 Shallots
2 Garlic Cloves (crushed)
2 tsp Dried Nettles (Biome Box)
600ml Vegetable Stock
2 Chicken Thighs
Large Foraged Vegetable Bundle, 4-6 large handfuls (Biome Box)
2 tbsp Crème fraîche
½ Lemon (juice)
Olive Oil
Salt and Pepper
Grated Parmesan (optional)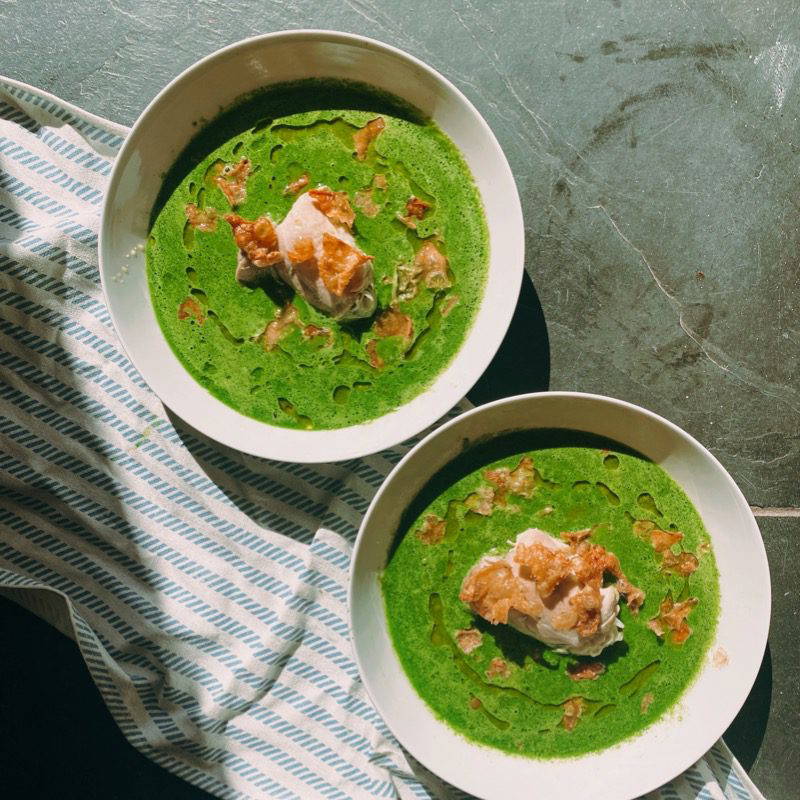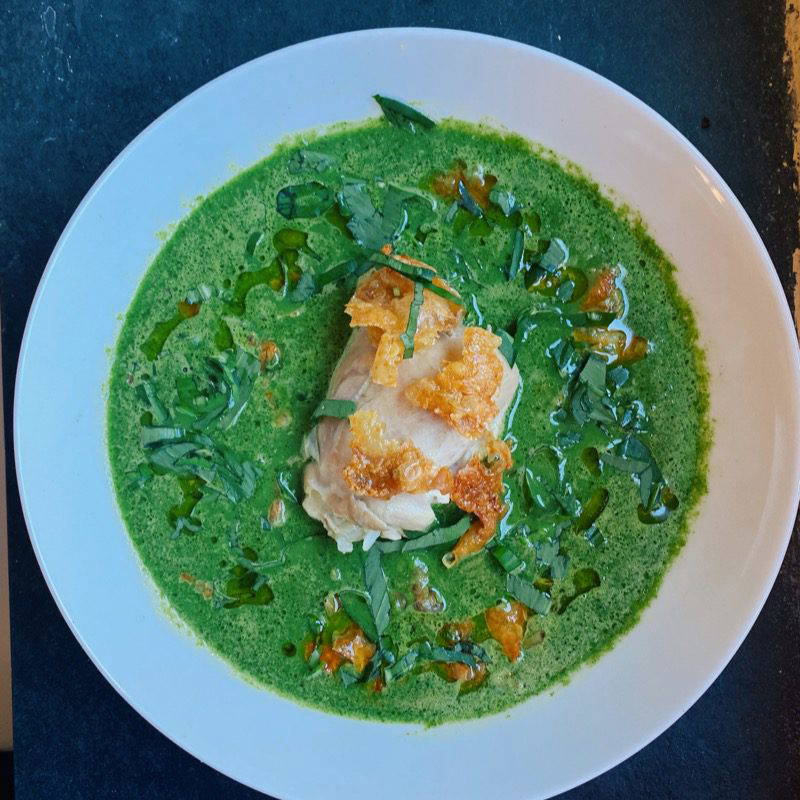 Step by Step Instructions
Step 1 – Make Soup Base
Turn the oven on to 190C.
Remove the root and top green ends of the leeks. Cut the leeks in half length ways and dice them up. Wash the diced leeks.
Peel and dice the shallots.
Add 2 tbsp of olive oil to a saucepan and heat. Add the diced vegetables and cook for 5 minutes until they have softened.
Add the crushed garlic and cook for 2 minutes.
Add the vegetable stock.
Step 2 – Cook Chicken
Remove the skin from the chicken thigh. Add the chicken thighs to the saucepan and bring to a simmer. Simmer the chicken thighs for 15 minutes until they are cooked through.
Add the chicken thigh skin to a flat baking tray. Season with salt and pepper. Roast the chicken skins for 10 minutes until they have coloured and crisped up. This is going to be used as a crunchy topping to the soup.
Step 3 – Blanch Foraged Vegetables
Wash the foraged vegetable bundle. Remove any tough stalks. Add the vegetable bundle to a mixing bowl and submerge the leaves in boiling water. Leave them soaking for 1 minute.
Drain the foraged vegetable bundle and add it to a liquidiser, along with a dash of water, crème fraiche and lemon juice. Season with salt and pepper.
Add the liquidised foraged vegetables to the chicken saucepan and stir to combine the ingredients.
Step 4 – Finish The Dish
Plate up by adding the soup to a bowl, top with the chicken thigh and crumble the crispy chicken skin over the soup. Add grated parmesan (optional).