Potato Hash, Smoked Haddock and Baked Eggs
Chef Tip:

When you come to cook the eggs, don't make the indents in the hash too big, otherwise the eggs will sink to the bottom of the pan and you won't see them.
Recipe in Collaboration with the Cornish Fishmonger
This is a simple recipe to mix up your brunch cooking and also smoked haddock is great source of protein. Try it with normal or sweet potato, choose your favourite!
1kg Sweet Potatoes or Normal
600g Smoked Haddock Fillets
130g Curly Kale
1 tbsp Olive Oil (or butter)
1 Brown Onion
150g Streaky Bacon
2 Garlic Cloves
1 tbsp Tomato Purée
1 tbsp Oregano
1 tbsp Paprika
4 Eggs
Salt and Pepper
Equipment – Large ovenproof frying pan, chopping board, kitchen knife & flat baking tray.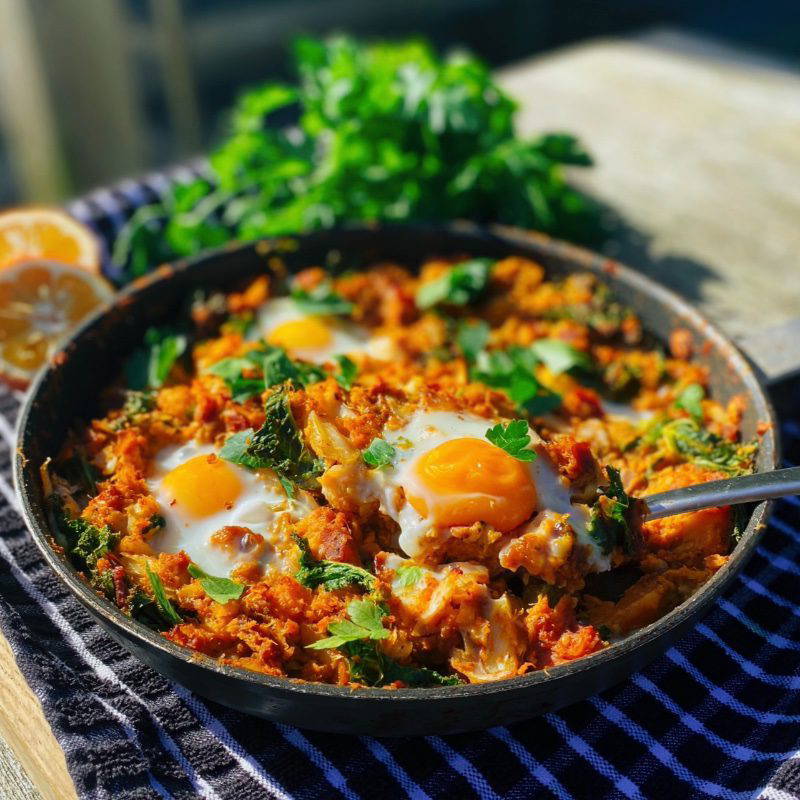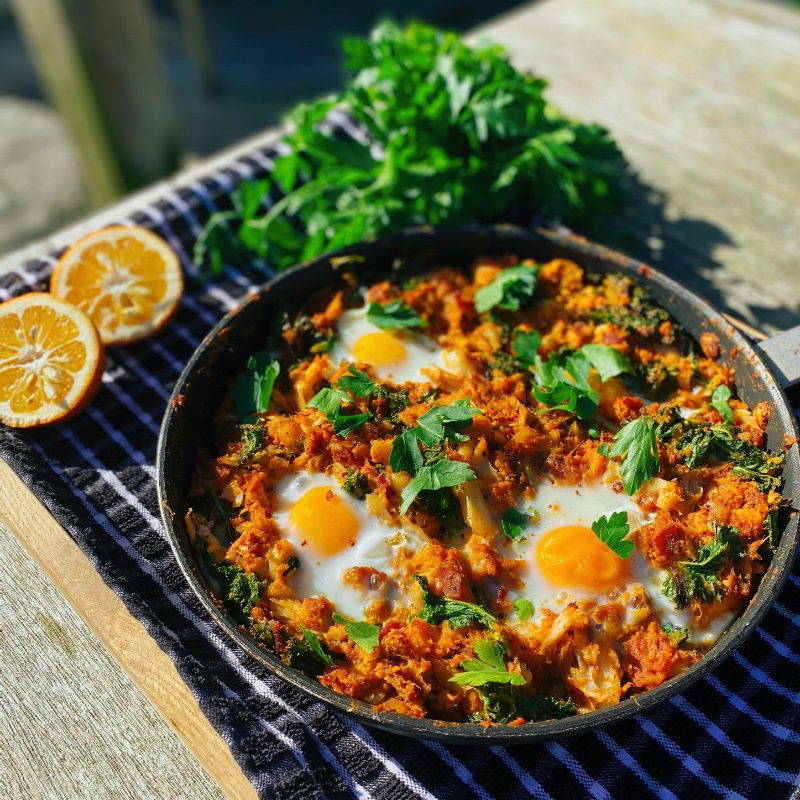 Step by Step Instructions
Step 1 – Cook Potatoes
Heat Oven to 200C
Peel the potatoes and cut them into even sized chunks.
Add them to a large sauce pan filled with cold water. Bring to the boil and then turn down the heat to a simmer. Cook for 12- 15 minutes until they are soft.
Drain the potatoes and leave them to steam dry.
Step 2 – Cook Kale and Smoked Haddock
Wash and shred the kale. Add the kale to a flat baking tray. Drizzle with olive oil and season with salt and pepper.
Add the smoked haddock fillets on top of the kale.
Roast in the oven for 10 minutes, until the kale is cooked and crispy.
Allow to cool slightly and then flake the smoked haddock and discard of the skin. Set aside until ready to use.
Step 3 –Cook Onion and Bacon
Peel and finely dice the onion.
Heat a large ovenproof frying pan and add olive oil (or butter). Add the diced onion and cook for 5 minutes.
Finely slice the streaky bacon and add to the softened onion and cook for 4 minutes.
Peel and finely chop the garlic cloves and add to the cooked onion and bacon. Add the tomato purée and the dried spices and cook for 2 minutes.
Step 4 – Combine Cooked Ingredients
Add the cooked potatoes, flaked smoked haddock and crispy kale to the frying pan. Stir to combine everything
Step 5 – Bake Eggs
Make 4 small indents into the potato mix. Break 4 eggs into each indent.
Bake in the oven for 6-10 minutes until the eggs have set. The yolks can still be a little runny. Serve immediately.
Substitutions
130g Curly Kale – 130g Spinach. Wilt seperately in a pan and squeeze out the excess water and add to the potato hash.
1 Brown Onion – 1 Red Onion
150g Streaky Bacon – 150g Chorizo
1 tbsp Tomato Purée – 1 tbsp Harissa
1 tbsp Oregano – 1tbsp Dried Mixed Herbs or 15g Fresh Parsley (roughly chopped)
1 tbsp Paprika – 1/2 tbsp Cayenne Pepper