BLT Lentil Salad with Yogurt Dressing
Chef Tip:
You can bulk this salad up with other seasonal vegetables e.g. grated carrot, shredded cabbage or spinach. 
Did someone say salad? This summery special is a quirky twist on the classic British BLT, crispy crunchy bacon, icey fresh lettuce and plump juicy tomatoes served with a delicious Yeo yogurt dressing. Yummy!
Salad
X2 400g Tinned Green Lentils
1 Red onion (sliced)
4 tbsp Cider Vinegar
2 tsp Sugar
1 tsp Salt
300g Cherry Tomatoes (halved)
1 Romaine Lettuce Head (washed and shredded)
180g Organic Streaky Bacon
Yogurt dressing
200g Yeo Valley Natural Yogurt
1 Garlic Clove (crushed)
1 Lemon (juice & zest)
1 tsp Dijon Mustard
1 tbsp Fresh Parsley (chopped)
1 Tbsp Olive Oil
Salt and Pepper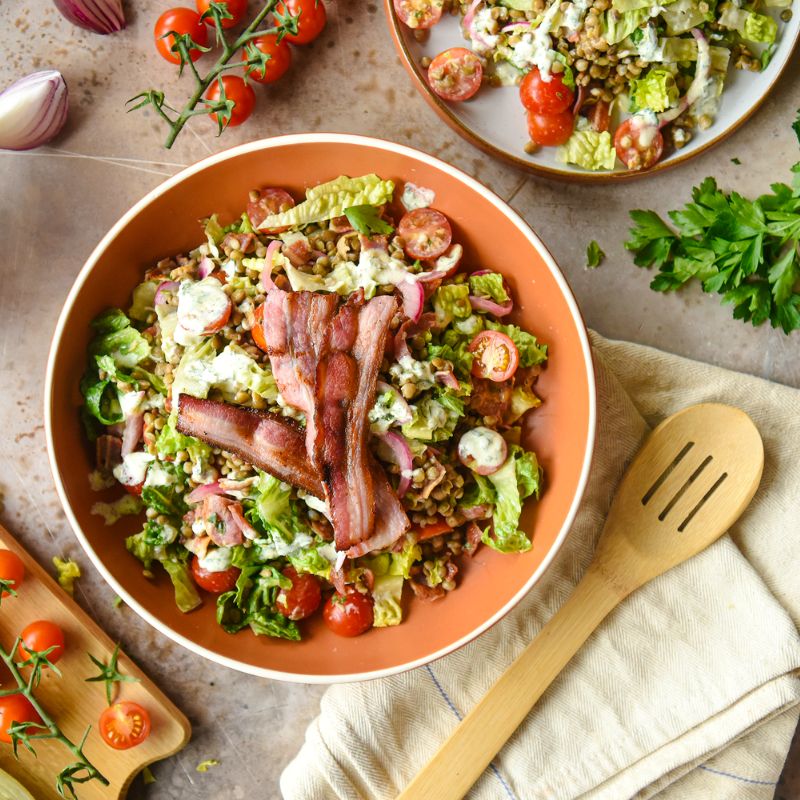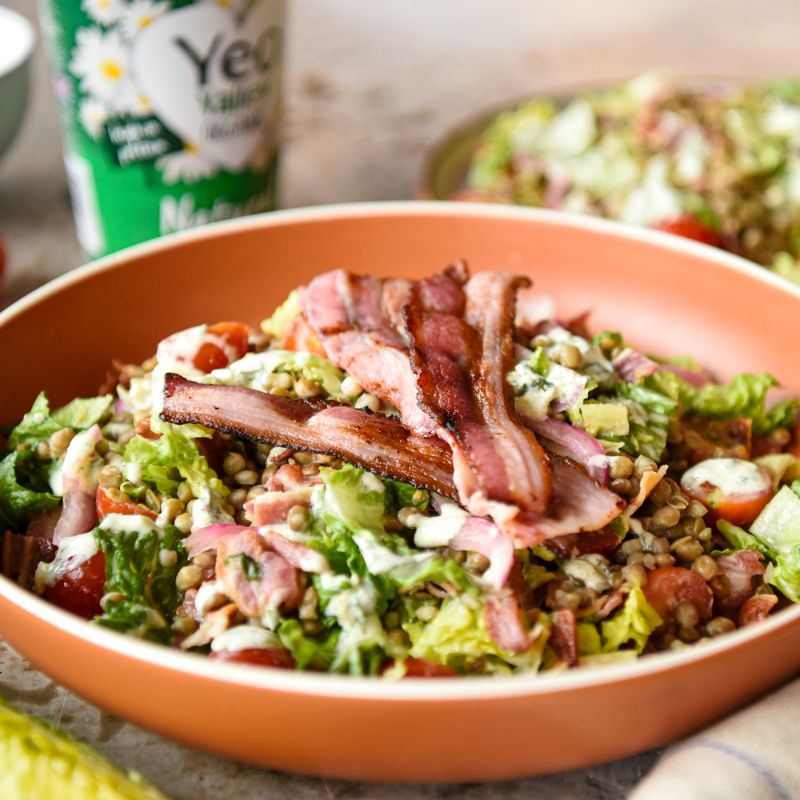 Step by Step Instructions
Step 1 – Prepare Salad Ingredients
Add the sliced red onion, cider vinegar, sugar and salt to a small mixing bowl and leave it to marinade. When you are ready to use the onion, drain off the excess liquid. 
Step 2 – Fry Bacon
Fry the bacon until crispy and allow it to cool. Slice it into lardons.
Step 3 – Make Yogurt Dressing
Combine all of the yogurt dressing ingredients in a small mixing bowl and season with salt and pepper.
Step 4 – Finish Salad
Add the drained lentils, sliced cherry tomatoes, shredded romaine, marinated red onion, bacon and dressing to a large mixing bowl and toss to combine the ingredients.