Smoked Salmon, Chive and Cream Cheese Quesadilla
Chef Tip:

Make sure your pan is hot before adding the wrap and so that it crisps up!
Recipe in Collaboration with the Cornish Fishmonger
A smoked salmon quesadilla makes a quick and easy brunch or light lunch, with few ingredients you can whip this up in 10 minutes.
2 Large Tortilla Wraps
150g Cream Cheese
5g Fresh Chives
½ Lemon (juice)
4 Spring Onions
40g Sun-dried Tomatoes
125g Cornish Fishmonger Smoked Salmon
40g Sour Cream (optional)
1-2 tsp Siracha (optional)
2 Eggs
Salt and Pepper
Equipment – Chopping board, kitchen knife, frying pan & Spatula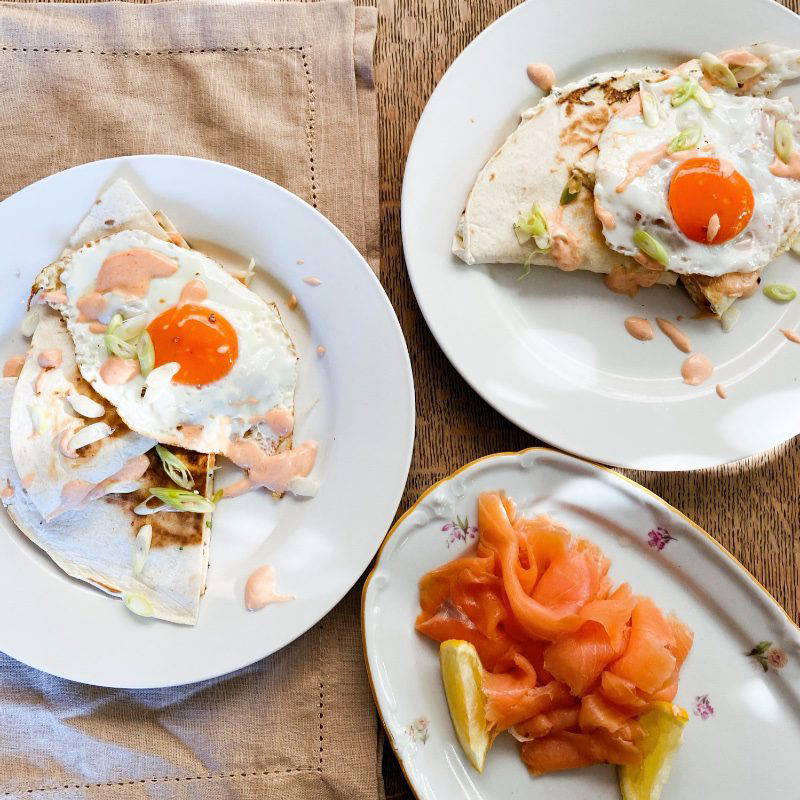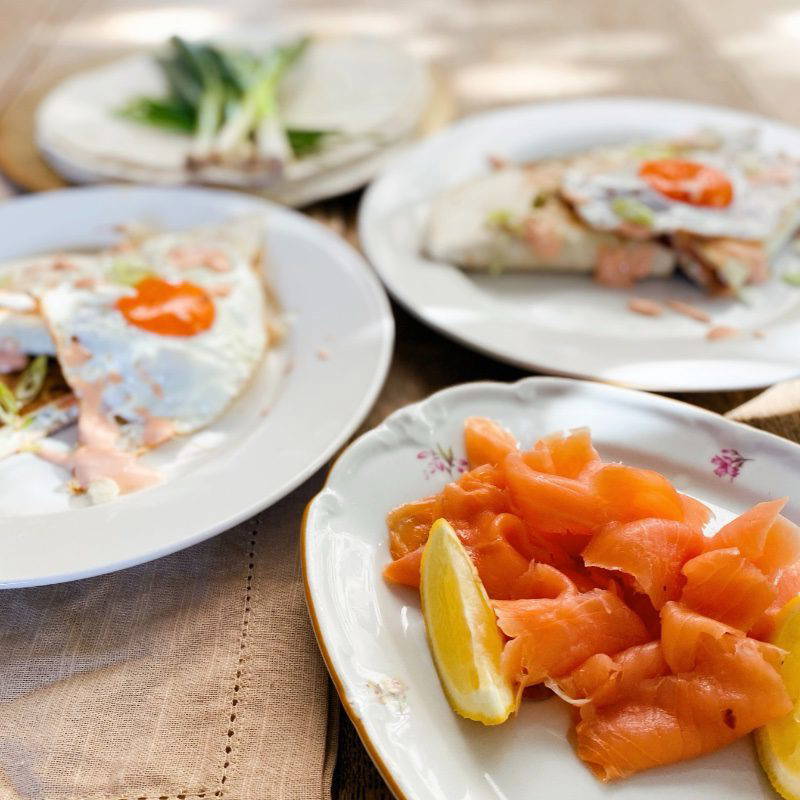 Step by Step Instructions
Step 1 – Heat Oven
Heat Oven to 90C-100C (warming oven)
Step 2 – Prepare Filling Ingredients
Finely chop the chives and add to a mixing bowl. Add the cream cheese and lemon juice and mix to combine the ingredients. Season with salt and pepper and set aside.
Remove the top green end from the spring onion and the root. Wash in between the green layer of the spring onion and finely slice them.
Drain the oil from the sun-dried tomatoes and finely slice.
Step 3 – Assemble Quesadilla
Spread half of the cream cheese mix over one half of the tortilla wrap.
Add half of the smoked salmon, sun-dried tomatoes and spring onions on top of the cream cheese mix. Fold the wrap in half and press down to seal it.
Assemble the second quesadilla.
Step 4 – Cook Quesadilla
Heat a large frying pan up and add the folded quesadilla to the pan. Cook for 2-3 minutes until it is toasted and crisp. Flip it over and cook the other side.
Add to a baking tray and keep it in a warming oven (90-100C) whilst you cook the other quesadilla and finish the dish.
Cook the second quesadilla and add to the warming oven whilst you fry the eggs.
Step 4 – Finish the Dish
Add 1 tbsp butter or olive oil to the frying pan and fry 2 eggs.
Whilst the eggs are cooking combine the sour cream and sriracha (if using).
Slice the quesadilla in half and add to a plate, top with the fried egg and drizzle over the siracha sour cream (is using).