Speedy Vegan Miso Mushroom Ramen
Chef Tip:
If you have leftovers and need to reheat this dish, the best way to do this is to drain the liquid into a saucepan. Re-heat the liquid to a high temperature and then stir through the rest of the ramen ingredients. This way, you do not overcook the noodles.
Recipe in Collaboration with Vogue
This was a Veganuary recipe that I wrote for Vogue, please follow the link to see two other Veganuary recipes, including Red Pepper Re-Fried Bean Quesadilla and Sweet Potato, Sun-Dried Tomato and Shallot Salad.
Click here to see Vogue article and recipes.
3cm Fresh Ginger
1 Large Garlic Clove
1 Red Chilli
250g Chestnut Mushrooms
1 Vegetable Stock Cube
2 tbsp Miso Paste
200g Rice Noodles
4 Spring Onions
3 Carrots
100g Fresh Spinach
1-2 Lime (juice)
3 Tbsp Soy Sauce (or tamari) 1 Tbsp Sesame Oil
Salt and Pepper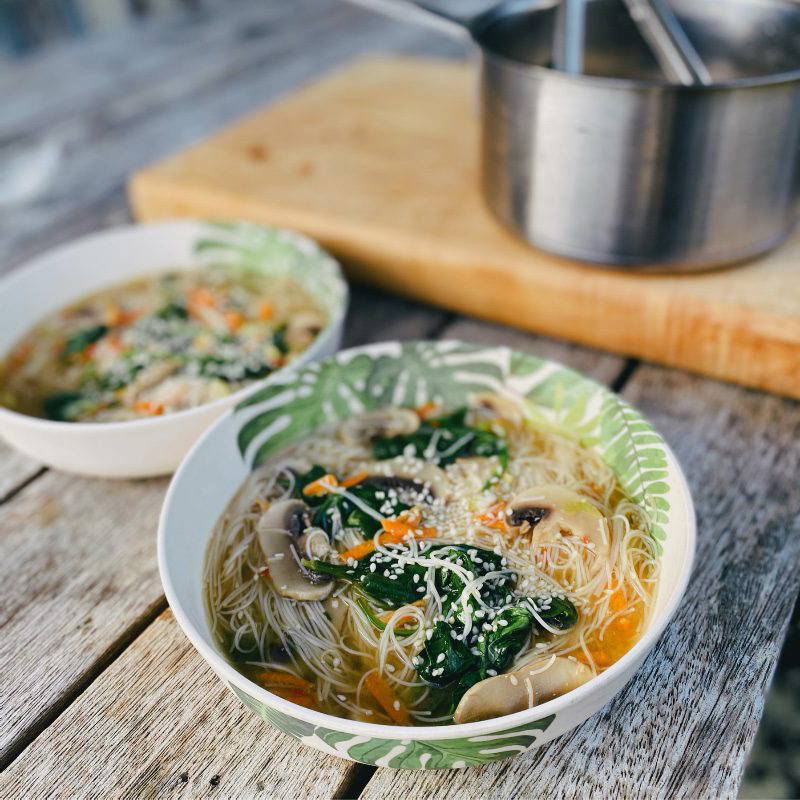 Step by Step Instructions
Step 1 – Make Ramen Stock
Peel and finely chop (or grate) the fresh ginger. Peel and crush the garlic clove.
Slice the chilli in half-length ways, scrape out the seeds and finely dice.
Slice the chestnut mushrooms.
Fill a large saucepan with 1.4l of water. Add the chopped ginger, garlic, chilli, chestnut mushrooms, vegetable stock cube and miso paste.
Bring the saucepan to a boil and simmer for 10 minutes.
Step 2 – Prepare other ingredients
Meanwhile, prepare the spring onions and the carrots. Remove the root end and top green end of the spring onions and finely slice them. Peel and grate the carrots.
Add the noodles to a heat proof bowl and pour boiling water over them. Leave them to sit for 3 minutes. Use kitchen tongs to break the nests up.
Once the miso mushroom saucepan has been simmering for 10 minutes, lift the cooked noodles from the heatproof bowl into the saucepan.
Step 3 – Finish & Season Dish
Take the saucepan off the heat and stir through the chopped spring onions, grated carrot and spinach. Stir until the spinach has wilted
Add the lime juice, soy sauce and sesame oil. Taste it and season it with salt and pepper.
Serve and divide the ramen between 4 bowls.