Chef Tip:
This dish is a fantastic vegetarian main or works well as a side, simply served with a roasted fillet of fish.
This dish turns a classic Italian number into a seasonal comforting tray bake. It is packed full of goodness with the sweet squash layered up with the tomato sauce. The cheese lends an indulgent creamy layer.
1 Butternut Squash (1kg)
3 tbsp Olive Oil
2-3 Red Onions (230g)
3 Garlic Cloves
1 tbsp Dried Oregano
1 tbsp Tomato Purée
2 400g Tinned Tomatoes
1 tbsp Red Wine Vinegar
10g Fresh Basil
100g Parmesan
50g Breadcrumbs
250g Mozzarella Ball
Salt + Pepper
Equipment – Chopping board, kitchen knife, vegetable peeler, large flat roasting tray, medium saucepan & 17cm by 25cm rectangular pie dish.
See substitution list at the bottom of the recipe.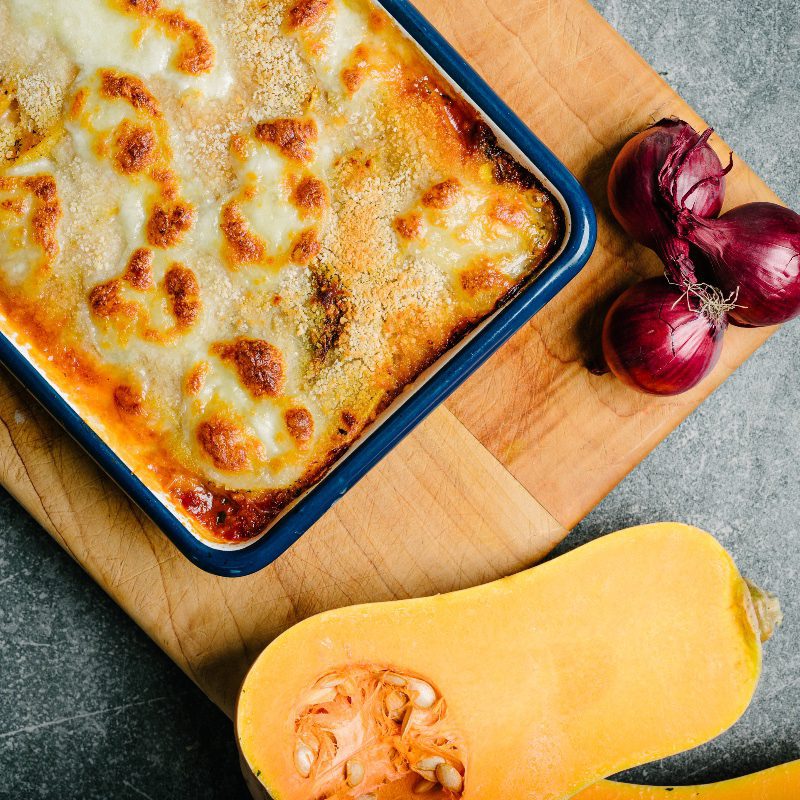 Step by Step Instructions
Step 1 – Prepare Butternut Squash
Heat oven to 190C.
Slice the butternut squash in half lengthways and scrape out the seeds. Peel the skin with a vegetable peeler or knife. Slice the butternut squash into thin slices (2mm). Lay the slices on a flat baking tray and spread out in one even layer and drizzle with 2tbsp olive oil. Roast for 30 minutes.
Step 2 – Make Tomato Sauce
Thinly slice the red onion. Heat a medium saucepan and add 1 tbsp olive oil. Cook the onions for 5 minutes until they have softened.
Peel and finely chop the garlic cloves. Add the chopped garlic and tomato purée to the softened red onions and cook for 2 minutes.
Add the tinned tomatoes and simmer for 8-10 minutes until the sauce has reduced and thickened slightly.
Wash and finely chop the basil leaves and add them to the sauce.
Taste it and season with the red wine vinegar, salt and pepper.
Step 3 – Assemble Parmigiana
Add half of the tomato sauce to the base on your baking dish. Top with grated parmesan and a layer of the roasted butternut squash. The squash slices should overlap each other.
Add the other half of the tomato sauce on top of the first layer of squash. Add grated parmesan and the rest of the squash in one even layer.
Top with the breadcrumbs. Break the mozzarella ball up into pieces and scatter them over.
Cover the parmigiana with foil and roast in the oven for 30 minutes. Remove the foil and roast for a further 10 minutes until it has slightly browned and is bubbling.
Substitutions
3 Red Onions (230g) – 3 Brown Onions
1 tbsp Dried Oregano – 1 tbsp Mixed Herbs
2 400g Tinned Tomatoes – 600g Fresh Cherry Tomatoes (the sauce will need reducing further)
1 tbsp Red Wine Vinegar – 1/2 Lemon Juice
10g Fresh Basil – 10g Fresh Parsley
100g Parmesan – Vegan Cheese Alternative