Stilton and Chutney Baked Oyster
Servings
Starter Serves 2
Chef Tip:
Make sure you have the correct oyster shucking knife. The Pacific oysters require a thin knife as the opening at the bottom of the shell tends to be small. Check out my instagram for a video.
Recipe in Collaboration with the Cornish Fishmonger
This Pacific oyster species grows in abundance in Cornish waters and is full of flavour. I'd love to inspire you to cook them. They are delivered live, as fresh as you can get and not only do they resemble a delicious taste of the sea but they also are packed full of nutrients including high levels of protein and zinc. They only require a simple preparation and this is a great winter recipe, serving the oysters warm.
8 Oysters
50g Stilton
100g Cream Cheese
8 tsp Breadcrumbs
4tsp Caramelised Onion Chutney
Salt and pepper
Equiptment needed – Flat baking tray & oyster shucking knife.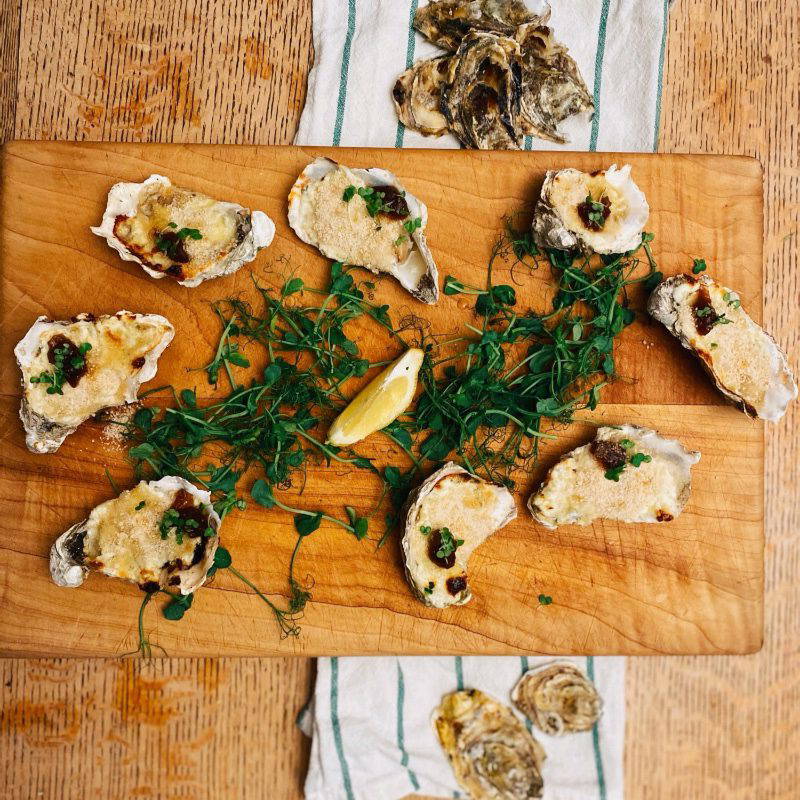 Step by Step Instructions
Step 1 – Prepare Oysters
Heat oven to 200C
Grate or crumble the stilton and combine with the cream cheese. Season with salt and pepper.
Using an oyster shucking knife (or a thin knife), shuck the oysters. Keep the oyster juice and carefully release the oyster from the bottom shell using the knife. Pick away any bits of shell.
Add the stilton and cream cheese to each oyster and spread it out evenly. Add them to a flat baking tray.
Sprinkle 1 tsp of breadcrumbs over each oyster.
Step 2 – Roast Oysters
Roast the oysters in the oven for 8-10 minutes until they have browned slightly on the top.
Leave to cool for a minute. Top each oyster with ½ tsp of chutney and serve.
Enjoy using a small starter fork.