Turkish Eggs & Breakfast Bean Burger
Ready In:
1 hour & 30 minutes
Chef Tip: If you want perfect jammy-style eggs cook them for 5 minutes and 30 seconds. Alternatively you can do poached eggs.
Breakfast need not be boring with this delicious bean burger. Served with Turkish inspired eggs this veggie breakfast is a must try!
Breakfast Bean Burger
2 Small Red Onions
300g Chestnut Mushrooms (finely sliced)
1.5 Garlic cloves (crushed)
1.5 tbsp Ground Coriander
2 Tbsp Tomato Purée
600g Cooked Hodmedods Flamingo Peas (approx. 300g Dried)
75g Yeo Valley Mature Cheddar Cheese
15g Fresh Coriander (Leaves finely chopped)
Polenta (for coating)
Olive oil
Salt and pepper
Turkish Eggs
6 Eggs
600g Yeo Valley Greek Yogurt
1 Garlic Clove (crushed)
½ Lemon Zest
15g Fresh Coriander (Leaves Finely Chopped)
120g Yeo Valley Unsalted Butter
1 tsp Paprika
½ tsp Dried Chilli Flakes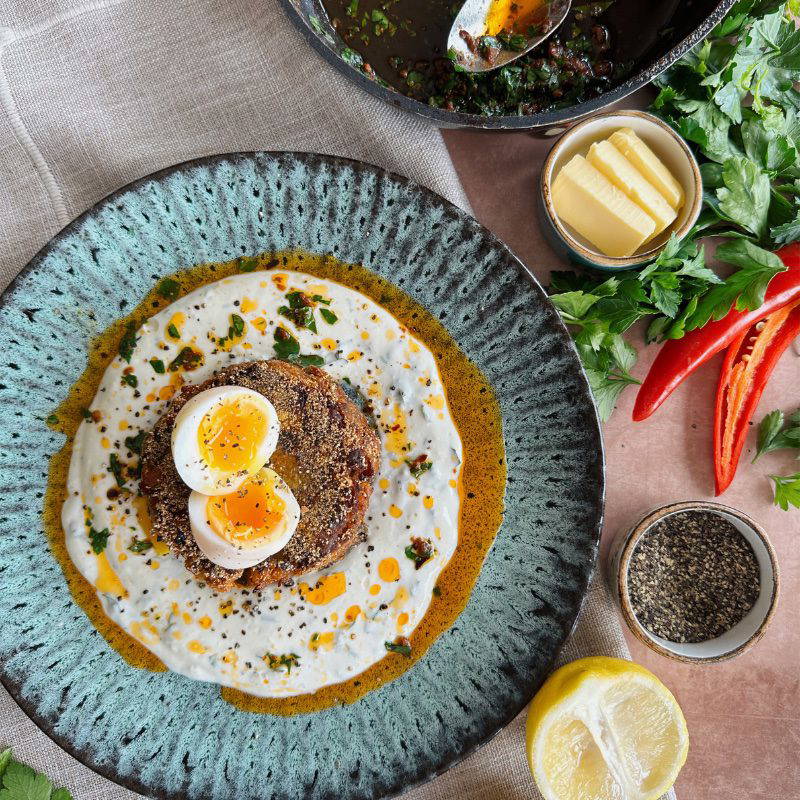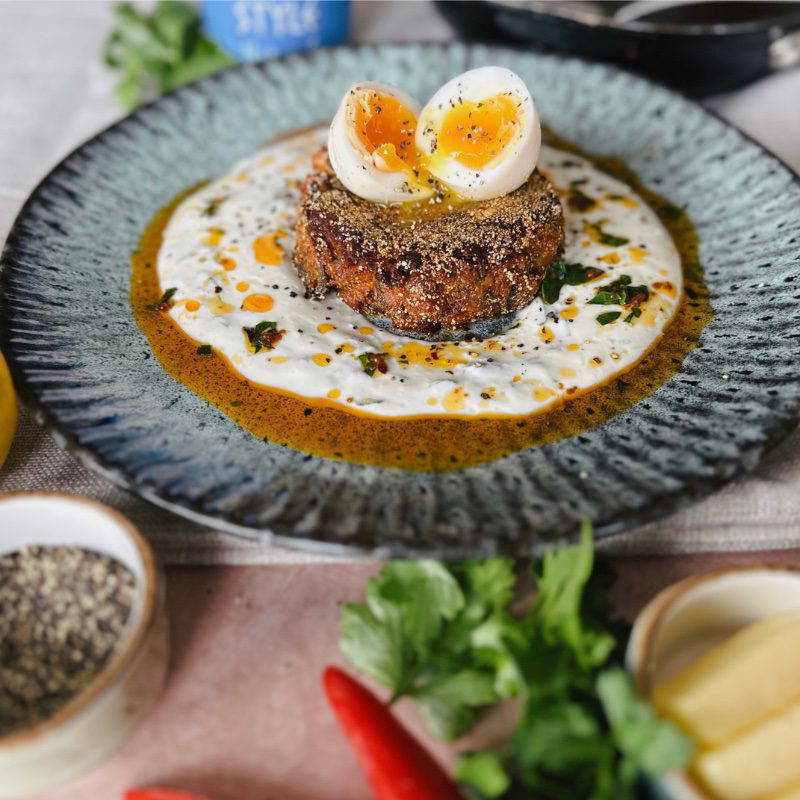 Step by Step Instructions
Step 1 – Start To Make Bean Burger
Peel and finely dice the onion. Add oil to a pan and heat, cook the diced onion for 5 minutes. Add the sliced mushroom and cook for 5-7 minutes until all of the mushroom cooking liquid has evaporated. Add the crushed garlic, ground coriander and tomato purée and cook for a further 2 minutes.
Step 2 – Cook Peas & Heat Oven
Take off the heat and stir through the cooked flamingo peas, cheese and chopped coriander. Using a wooden spoon or potato masher, crushed the peas and combine the ingredients. The mixture should look like a chunky mash. Shape into six even sized burgers and put them in the fridge for at least 1 hour to firm up.
Heat the oven to 170C
Step 3 – Cook Burgers
Add polenta to a mixing bowl and coat each burger. Heat a frying pan to a medium heat, fry each burger in batches for 3 minutes on each side. Add the burgers to a flat baking tray and cook in the oven for 12 minutes.
Step 4 – Perfect Jammy Eggs 
To make a perfect soft 'jammy' style egg. Add water to a saucepan and bring to the boil. Add the eggs and cook for 5.5 minutes. Drain the water and peel the eggs and set to one side.
Step 5 – Make Turkish Eggs
Whilst the eggs are cooking, heat the yogurt and cook the butter. Add the yogurt, lemon zest and crushed garlic to a heat proof bowl. Place the bowl on top of a pan of lightly simmering water and gently heat for 4 minutes. Melt the butter in a pan, once foaming add the paprika and chilli flakes and cook for 1 minute and then remove from the heat.
Step 6 – Plate Up 
Plate up with a layer of yogurt on the base of the plate, burger in the middle. Drizzle over the melted butter and top with a perfectly cooked egg.